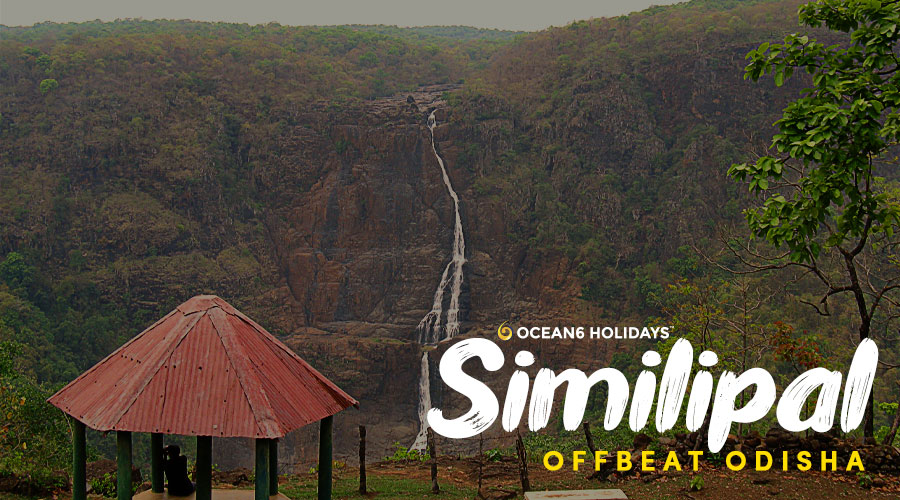 One must admit that the scenic beauty of this part of the country is not much talked about. But it is reason enough for you to head out to Odisha or precisely Simlipal for your next trip. Simlipal National Park or Tiger Reserve covers an area of nearly 2750 square kilometers or maybe more. Situated on the Eastern Ghat, Simlipal is also a Biosphere Reserve and is also a part of the Mayurbhanj Elephant Reserve. There is a reason behind the name 'Simlipal'. There is a bounty of Semul or red silk cotton trees that blossom in the forest and that is where it has got the name 'Simlipal'. The expansive forest has a distinctive combination of Savannahs, ever-green deciduous high-level Sal, and grasslands. The dense foliage, the fresh air, a stream meandering past the large rocks are some features of this beautiful National Park. The Simlipal National Park is also prominent for its wildlife and diversity infaunal.
The Simlipal National Park is profused with a large number of species of different mammals, flora-fauna, wildlife, avifauna, etc. It gives shelter to 55 species of mammals, more than 1253 species of flowers, 361 species of avifauna, 99 species of non-flowering plants, 62 species of reptiles, and 21 species of amphibians. These staggering numbers show that why Simlipal National Park is such a captivating jungle area. Simlipal lies on the border of the Santhal Tribal settlement. Once you enter the forest, you will realize that there is pin-drop silence, the forest is enveloped in a magical world of green, while the only sound will be of a melodious bird or a gurgle of a nearby stream. Every bird would like to show off its singing prowess. This is pure and unadulterated nature at its best. The setting sun will bathe the forested hilly terrain in a dreamlike golden hue. You should just sit back and allow your eyes to capture the details. You will feel peace with the surroundings and yourself. At Simlipal National Park, one needs to have patience and understanding of its creatures.
Places near Simlipal Forest
Devkund – Situated on the River Banks of East Deo, and winding on the hilly areas, Devkund is a place of worship by the Hindus. The Royal Dynasty of Mayurbhanj built a temple for Goddess Ambika during the ancient period. It is a very ideal picnic spot.
Gurguria – It emits the feel of a hill station and is located on the edge of River Khairi. You can see rare orchids in here, though the main attraction is trekking and elephant ride. This place also has accommodations.
Barehipani Waterfall – It is known to be the highest waterfall in India. And its awe-factor lies in the fact that it is a two-tiered waterfall. The waterfall looks similar to a shape of a rope that is called Barehi in the native tongue. So we can now guess where the name of the waterfall has come from. The water thunders down from nearly a height of 400 meters. Its origin is the Meghasani Peak which is the highest in the Reserve. A pond is created at the base of the waterfall where people can take a dip.
Joranda – This is another beautiful waterfall that drops from a height of 150 meters. This scenic waterfall is in the core of the dense jungle. The water droplets drop perpendicularly on the ground and a ravine is formed. The lush vegetation on the backdrop looks ethereal. This is a very nice tourist spot.
Kumari – This is a small-scale hamlet lying 2 kilometers from Gurguria. It is a marvelous place with rice fields and ranges of hills surrounding it. Bamboo cottages are available for accommodation.
Ramathirtha – Ramathirtha is placed on the convergence of Bhandan and Khairi Rivers. There is a beautifully well-maintained garden where picnics can be held. There is a Gharial Research Centre here. Accommodation is available in cottages but the food is available at nature camp by on spot payment system.
Sitakund – This is a pilgrimage spot for Hindus and also for picnickers. This place also has a small scenic waterfall and a ravine.
Lulung – Lulung is positioned on the edge of the tributary to River Palpala and at the entry point to the park. There is dense foliage on either side of the river. The water is crystal-clear with differently sized and coloured pebbles that look fabulous. This place is perfect for your Facebook picture post.
Khiching – This place is renowned for a granite temple of Goddess Kichakeswari that was constructed by the Maharaja of Mayurbhanj. Hindus consider this as their Holy site.
Bhimkund – This is a picturesque picnic spot. It is also a place of gathering during Makar Sankranti.
Kuliana in Haripurdeokund – This is a place in Simlipal where history suns in all directions. Paleolithic Art is preserved in Kuliana. Haripur was previously the capital of Mayurbhanj State.
Activities in Simlipal
Studying Orchids – Orchids are a special attraction here that interested people can study about.
Bird-Watching – Our winged feathered friends pose special interests among numerous people. The forest surrounding the area is an ideal spot for bird-watchers. Wake up early morning and you will be greeted by some noisy vernal hanging parrots.
Picnic spots – There are various picnic spots betwixt nature where you can enjoy a lovely time. The place near River Palpala is special for picnics.
Cycling – It is a tremendous experience to cycle through the vast wilderness and mountain trails to explore the forest.
Trekking – Trekking through the Simlipal forest, the splendid mountain tracks are a must for trekkers.
The best time to visit Simlipal
The Simlipal Tiger Reserve is open to visitors tentatively from 1st November till 15th June. The best time to visit this super-hit place is during the winter months. The forest shows its best side at the beginning of December till February end. The ideal months to visit Simlipal are from October to February.
How to reach Simlipal National Park?
Railways – For travelers of Kolkata and Bhubaneshwar, Baripada is the closest Railway Station. It is just 76 kilometers from Simlipal.
Airways – Jamshedpur Airport is the closest airport for both passengers flying from Bhubaneswar and Kolkata. From Jamshedpur airport, it is just a matter of 3- hours drive.
Roadways – The route from Kolkata is through Joshipur via Howrah-Kharagpur-Bangriposi. The distance is just 290 kilometers. If you are traveling from Bhubaneswar take the route along Joshipur via Cuttack-Jajpur Road-Anandapur-Karanjia. The distance is approximately 252km.
There is a special type of beauty in forests. Imagine a large area that is left to grow naturally. And there thrives so many living things. Sometimes in harmony with one another and at other times, there is the battle for the survival of the fittest. Some beauty remains unseen but you have to find them, feel them and become one with them. And also most importantly forest plays a pivotal role in keeping our eco-system at balance. Save Forest, Save Lives.