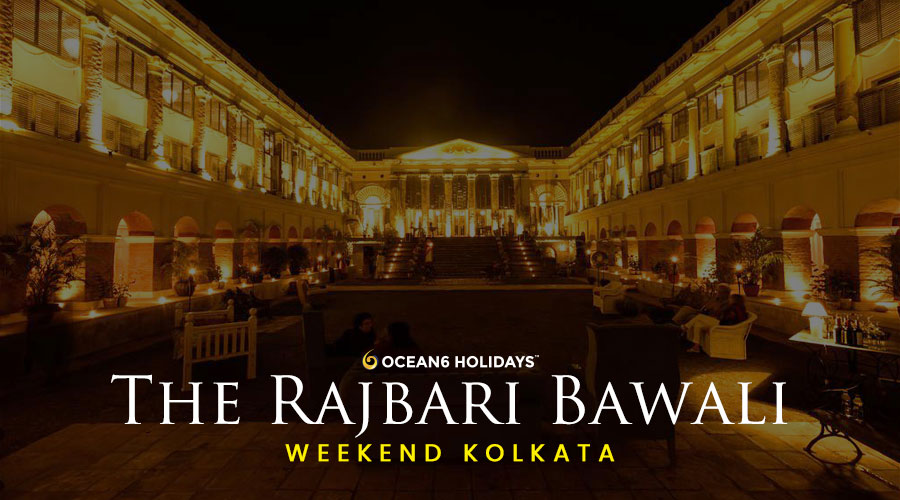 Rajbari Bawali is a 300 hundred-year-old architectural splendour that reflects the glorious past of the Zamindars of Bengal. This is one of the most sought after properties near Kolkata for a luxurious weekend getaway. This antique palace or Rajbari exudes luxury and elegance. The moment you enter the sprawling 4-acre traditional rajbari, you will feel that you are transported back in time and wreathed in royalty. Rajbari Bawali showcases the extravagant lifestyle along with the antiquity and opulence that once flowed through this epitome of luxury.
This masterpiece is infused with old-world charm. The Nawabs, Zamindars, Thakurs of Bengal lived a life full of lavishness and richness not only in wealth but also in art, culture, and the finest things in life. In recent times, the Rajbari Bawali has been reinstated into an exquisite boutique hotel that became the talk of the town overnight. It is open to tourists and weekenders for a royal experience at unbelievably low prices as far as luxury is concerned.
Visiting the Rajbari will be a trip back in time. You will get a vibe of the Zamindari lifestyle during your stay in the Rajbari. The Rajbari now has 30 eloquently designed rooms and suites. The rooms get booked pretty quick so if you are planning a stay at The Rajbari Bawali, make sure that you book your room online immediately. This grandiose structure is restored with great attention to detail. Very carefully and precisely it has been redone with family heirlooms, original teak wood, and other items of grand stature. The building has been meticulously redefined with hand-printed cotton and linens and handcrafted wooden beds. Feel free to contact us if you are facing any difficulty in booking a room at the Rajbari Bawali.
Rooms
While booking your room, you'll have the option to choose from multiple categories of rooms. The rooms of Rajbari Bawali are a perfect blend of the bygone era and modern facilities. Rajbari Bawali is holding strong to the golden divinities of the past and trying hard to revive it. Description of the rooms will prove that.
Classic Heritage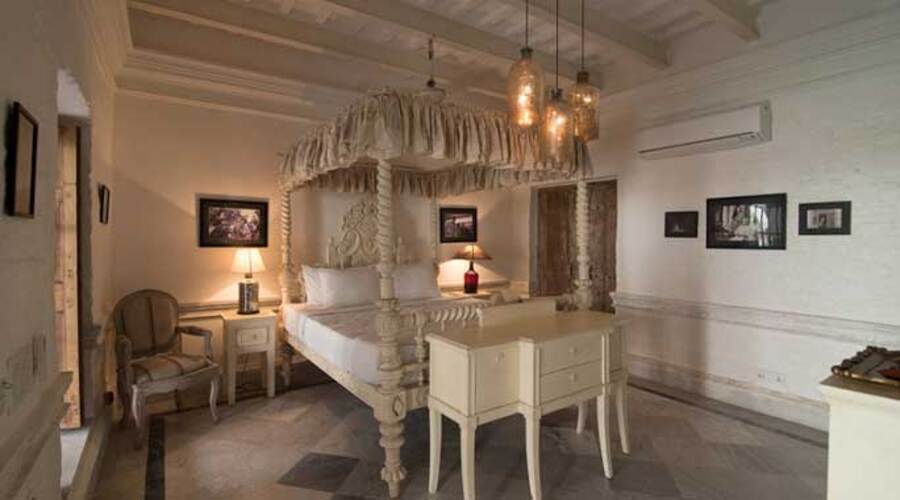 This signature room provides unlimited contentment and luxury. The size of the room is 250 square feet. It has all present-day facilities along with a huge carpet area, poster beds, and bookshelves.
Notun Bari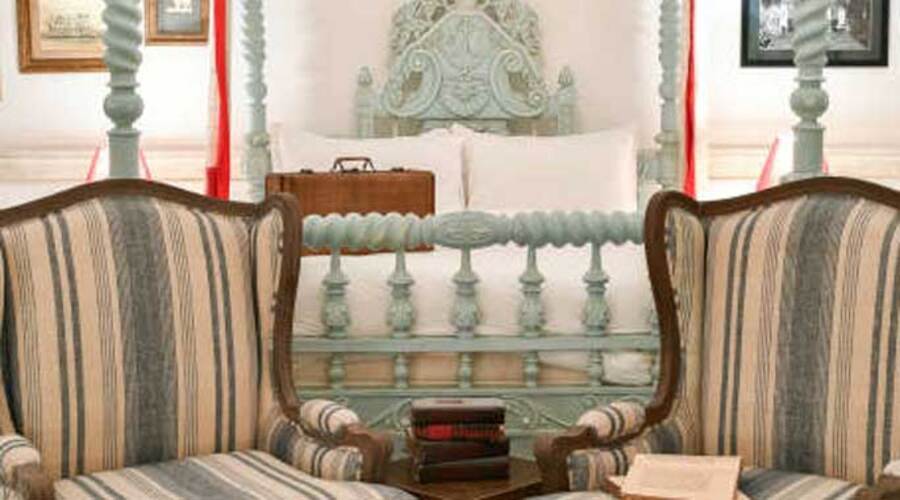 These rooms come with a veranda and they are pond facing.
The Zamindari Suite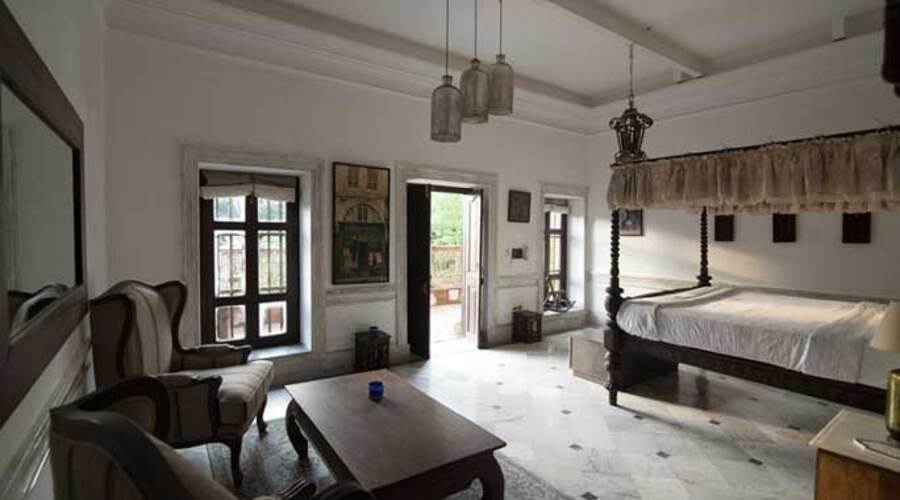 This 300 square feet suite provides high-end lodging facilities. Booking the Zamindari Suite will avail you with complimentary breakfast, in-room safe, wardrobe, tea-coffee maker, and other modern amenities.
The Royal Suite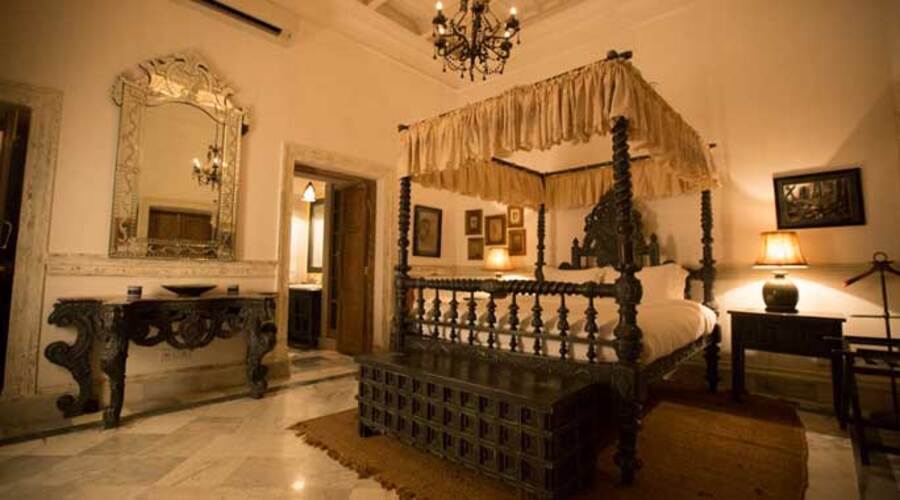 The room extends over 400 square feet. This suite consists of a bedroom and a separate living area. Some basic amenities of this suite include an air-conditioner, tea-coffee maker, complimentary breakfast, the best part is that you will get to live life Zamindar size during your stay.
Dak Bungalow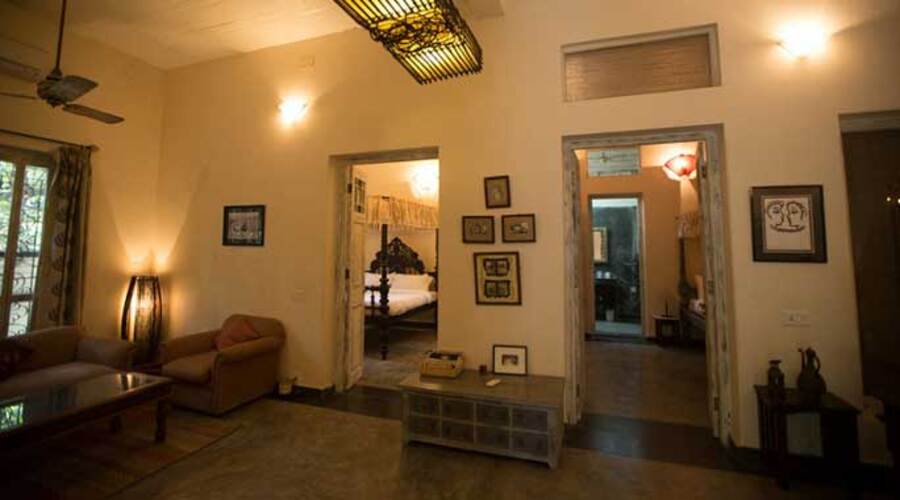 The Dak Bungalow has ample space with two bedrooms, a living room, kitchen, dining room and its size is over 900 square feet. This spectacular bungalow is ornamented with first-rate furnishings and sophisticated interiors. Large families can book this room as up to six people can stay here.
Which room will you book?
Unwinding at Rajbari Bawali
You can go on cycle rides along the banks of the River Hooghly and can find out the little special nuances of village life. The enchanting Sandhya Aarti, a ritual that takes place in every home holds a special meaning here. The atmosphere fills with the sweet fragrance of incense sticks, the hymns of shlokas, lighted diyas, soft drum beats, etc. This episode happens every evening and at that time, the Rajbari comes alive with a distinguished fervour. You can watch the sun go down while taking a boat ride on the river. The best way to experience and explore the place is by walking. Wake up early in the morning and roam freely in the surroundings. It is so wonderful and enriching to see the morning routine of the villagers. Capture this moment in the wonderful setting.
Rajbari Bawali celebrates a lot of events. Holi, Easter, Independence Day, Id, Durga Puja, Diwali, X-mas, and New Year are all celebrated with lots of joy and happiness. A lot of corporate events are organised here. This boutique hotel is also a very popular venue for marriages and other personal ceremonies.
Facilities at Rajbari Bawali
The Rajbari has a fusion of traditional and modern activities. Some modern amenities include a swimming pool, spa, sun terrace, billiards room, along with a timeless activity; the library. This magnificent dwelling is quite near to Kolkata. It is approximately 37 kilometres from Howrah Junction.
This is the ideal place to get as close as possible to spend a day like a Zamindar. This spectacular edifice is a treat to your senses and takes you back in time. As the master masons re-laid every layer with shovels, Rajbari Bawali regained all the layers of the lost essence and cultural tapestry to allure visitors to witness Bengal's lost history in a new way. Booking a room here ensures you a Zamindari experience.
Frequently Asked Questions :
What are some of the property amenities at The Rajbari Bawali?
Amenities available at The Rajbari Bawali include free breakfast, wifi, and an on-site restaurant. Guests are also offered free parking and can hire a car for local sightseeing along with that, it also has a swimming pool and many activities for children.
Are there any historical sites close to The Rajbari Bawali?
Chandraketu's Fort (15.7 km) is a popular destination frequented by the guests of Rajbari Bawali.
What is the per-day price for a room in Rajbari Bawali?
The prices vary depending upon the room availability and the room category. Contact us for the details.
How far is Rajbari Bawali from Kolkata?
It is 37 km away from Kolkata and will take approximately 1 hour 50 minutes to reach there by road.
What food & drink options are available at The Rajbari Bawali?  
Guests can enjoy free breakfast and a wide variety of delicacies from their on-site restaurant during their stay.