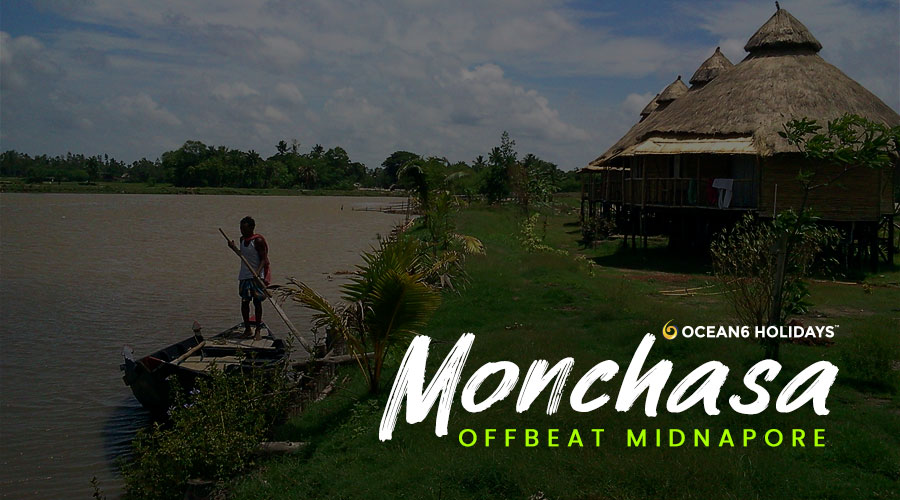 Monchasha is a place surrounded by greenery and gives out an experience of eco-tourism. You will get a vibe of rural Bengal in this alluring place. This sustainable eco-tourism module is based at Paushi Village in East Midnapore on the edges of Bagda River. Since we are losing touch with rural Bengal, this place will help you to revive that lost touch. Original village culture is mixed with the purity of age-old customs that is not fast-paced like the life we live in the modern world. So if your heart is longing to see the rural and natural Bengal, take our hand, come out of the concrete jungle, and head to Monchasha.
What are the places to see in Monchasha?
Shamoli Bithi – Your creative mind will go on overdrive when you visit a serene place like Shalmoli Bithi. This is a wonderful plantation area. A wide array of flora-fauna, spices, and vegetables are found here. Walking among them will pour buckets of peace on you. When your fingers slightly touch the leaves you will have a sensation full of purity and you will become one with nature. Efforts are underway to name the plants along with their significance and scientific name in the local language to arouse curiosity among all the visitors. Some examples of plants you will find here are Hartuk, Neem Trees, Ram Tulsi, etc.
Ishani and Naitri – These two are large fish ponds that have a lot of fish. There you find Mourala, Rui, Puti, Katla, Telapia, Carp, Calbous, and Mrigel. Please forgive us if your mouth has started watering. Here the fish are reproduced naturally.
Sahajiya Cultural Centre – For the upkeep of these heritage things, Sahajiya has been established. The centre is a thatched hut with a roundish clay court and lush green grounds. Sahajiya is a place where you can get to express your cultural sides with folk performances such as Baul Fakir Darbesh, the enigmatic Chhau dance, Raibneshe Jatra Pala, and many more. Your gifted talents like handicrafts, 'Pot Chitra' paintings can be exhibited here. The audiences have to sit on 'Madur', a hand-crafted material used to sit on the floor to browse through all the craft items. Plans are on to promote one of the very valuable and treasured crafts of Bengal called Nakshi Kantha. Do not forget to visit 'Aamar Bangla', where you can see amazing creations like Lau Macha, Dhenki, Kendupatar Borshati, Kumorer Chaak, Borshar Toka, Tamt, Alpana, Langol – Moi, etc. All these things will give you the true essence of Bengal. The local self-help groups get a lot of support from all these.
Nearby places of attraction
Bahiri Temple – This temple constructed in the Middle Ages is just a few kilometers away from Monchasha.
Tamluk – This is a historically notable town that has a temple called Devi Barghobhima Temple. It is a thousand-year-old temple and one of the Shakti Peeths.
Rakhit Bati – It was the secret meeting place of the freedom fighters. This is also located nearby along with a museum and a Rajbari.
Some cultural shows that you must watch
Lokgeeti, Palli Geeti, Tusu, Bhadu – Performed by people of East Midnapore.
Bangla Adhunik, Lokgeeti, Polli Geeti – Performed by locals of nearby villages.
Kirton – Performed by local villagers.
Poter Gaan – Traditional art form with self-made picture scroll, performed by artists From Nandigram adjoining villages.
Puppet Show (TAAR PUTUL) – Performed by artists of Henria from adjoining villages.
Puppet Show (BENI PUTUL) – Performed by artists of Henria from adjoining villages.
These shows are paid shows. You are recommended to talk to your travel agent or the concerned person for arranging them if you are interested.
Best time to visit
Monchasha can be visited whenever your heart desires.
Monchasha is a responsible eco-tourism spot. You are requested to follow the below-mentioned points for maintaining peace, decorum, and integrity of the place:
Alcohol consumption or any other type of addiction are not entertained here.
You are requested to inform the concerned persons about your food preference. Food preference cannot be changed at the last minute.
Please note picnic parties and day visitors are not allowed in Monchasha.
How to reach Monchasha?
By Road – Monchasha-Contai is approximately 130 kilometers from Kolkata. You can also traverse this route – Kolkata – Vidyasagar Setu – Uluberia – Bagnan – Kolaghat – Nimtori – Nandakumar – (Towards Digha) Chandipur – Henria – Kalinagar Bus Stop.
By Rail – You have to reach Contai railway Station from where pick up and drop services are available.
You can also hire Ambassador, Maruti Van, or trekker service from Kalingar Bus stop to Paushi Village. Do note that the trekker service is not very regular.