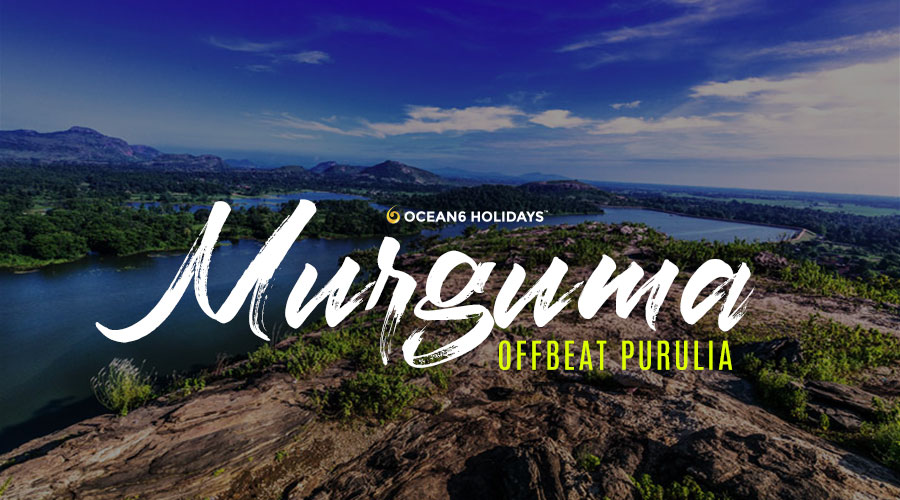 Many places are already known to be beautiful. But there are many more places whose beauty is indescribable yet they don't hog the limelight because unfortunately either we haven't heard about them or seen them. Murguma is one such place. Either you have heard about this place in Purulia or have not, but surely you cannot fathom how beautiful this place can be! Murguma is a divine place in Purulia away from the mundane city life. Murguma sits quietly on the border of Jharkhand and Purulia. Ajodhya hills encircle this place. There is greenery all around. Nature has poured all beautiful things like hills, lakes, waterfalls, rivers, etc. over Murguma.
Places to see in Murguma
When you go out for sightseeings do not miss out on the natural beauty all around you. The places are so photogenic that you will end up taking hundreds of pictures. So please charge your phone's and camera's battery to the fullest.
Ukumburra View Point – Your car will take you to a point and then you have to do a small trek to reach the Ukumburra View Point. The pathway that will lead you to the viewpoint is very beautiful and it's between the forests. You can view the hills surrounding the area. The view from the vantage point is very picturesque. The verdant hills far and near, the trees, the water-body; everything paints a very pretty picture from the Ukumburra View Point. Trust me you won't feel like leaving that place.
Marble Lake – This is one of the most spectacular places in Murguma. Marble Lake is truly marvelous. The vehicle stops very near to the Marble Lake so it's just a couple of minutes' walk to the edge of the lake. The lake is big and is surrounded by boulders. Yes, you can dip your feet in the lake but be careful.
Bamni falls – This is another bewildering sightseeing spot in Murguma. It's a quite long trek to reach the half-landing. There you will see the water gushing down the rocks. From there it's again a long trek to reach the river. The Bamni Falls and the river are just wonderful. Please wear trekking shoes or sneakers.
Charida Mask Village – This is a must-visit place. The Charida Mask Village is known for the masks that the Chhau Dancers wear for their performances. You will see people making intricate and colourful masks. They sell these masks also. So do not forget to buy some souvenirs from there.
Upper & Lower Dam – The views of the expansive upper and lower dams are just amazing. There is a long bridge over them. The car will take you to the end and you can get down savour the beauty and preserve it through clicking pictures.
Things to do
You can do trekking, cycling, swimming, village-walks, hiking, stroll beside the lake and most importantly enjoy the nature.
How to reach Murguma
By Train – You can take a train from Shnatragachi Station. The Train is Rupashi Bangla that leaves at 6:25 am. Rupashi Bangla doesn't serve any food. Please carry some edibles and drinking water with you. The train will reach Purulia Station at around 12-12:30 pm. You can already book a cab from your travel agent or you can hire a car and reach your hotel in Murguma. Murguma will take about 1 and 1hour 30minutes from Purulia Rail Station. You can also take a train from Howrah Station that goes to Jharkand and get down at Muri Station. Miruguma is 35 kilometers away from Muri Station. Another station near to Murguma is Jhalda Station.
By Car – Murguma lies at a distance of 350-400 kilometers from Kolkata if you travel by car. The time will depend on the route you choose. There are several routes:
Kolkata – Kharagpur – Jhargram – Jhilimili – Barabazar – Tamna More (Purulia Tata Road – Take Right to Arsha Road – Begun Kodor – Murguma
Kolkata – Asansol – Dishergarh- Raghunathpur – Chas More Via Gurguria More – Rakh More ( take left ) – Begun Kodor – Murguma
Kolkata – Arambagh – Bankura- Purulia – via Ranchi Road Chas More – Rakh More – Begun Kodor – Muruguma or Purulia – Jhalda ( on Ranchi Road ) – Murguma
Kolkata – Durgapur – Bankura – Purulia – via Ranchi Road Chas More – Rakh More – Begun Kodor – Muruguma or Purulia – Jhalda ( on Ranchi Road ) – Murguma
By Bus – There are regular overnight buses that ply from Esplanade or Babughat till Murguma. But there are no Luxury or Volvo bus service.
Bon Polashi Eco Hut
Bon Polashi Eco Hut is a beautiful resort in Murguma. The resort itself is placed among hills, water-bodies, and forests. The moment you enter Bon Polashi Eco Hut you will be bedazzled. Beautifully decorated cottages, a water-body, dining area, and a big green well-maintained ground will welcome you. Bon Polashi Eco Hut is in the lap of nature. If you take a 360degree view from the eco hut, you will only see hills and greens all around. Murguma is a Heavenly place. Purulia has this hidden gem that many of you may not know about.
Bon Polashi Eco Hut has 5 rooms. Two of the rooms have the facility of air-conditioning. The rooms are very spacious; there are windows for the natural light and air to come in. Each room has 1 table and two chairs. There is a large double bed and a single bed in all the rooms. Along with the bathrooms, there is an adjacent space. You can consider this place as a changing or dressing room, there is a wardrobe in this place. The bathrooms are of good size with a western-styled commode, sink, exhaust fan, geyser, and other common necessary items. The non-ac rooms are exactly the same. There are trees and flower plants in the resort.
There is a lovely sitting area also. The dining area has a roof but the sides are open; so anytime and every time you have your food over there you can still view the natural surrounding all around. The staff of Bon Polashi Eco Hut are so welcoming, friendly, well-behaved, and always ready to serve at any time with a lovely smile on their faces. The foods are very tasty and completely fresh. You will get authentic Bengali dishes not only cooked to perfection but also cooked with love. The resort can arrange for Folk dance, Bar-B-Que, and 'bansh pora mutton' in request and with extra charge. The entire property is very well-maintained and neat and clean. You won't find a speck of dirt anywhere.
Special Mention
Chhau Dance – Chhau Dance is a folk dance of Murguma that is famous all over India and the World. Its origin is in the Purulia districts. For more information on Chhau and Purulia, you can read this blog: https://ocean6holidays.com/destination/purulia/. You can also watch this video: https://www.youtube.com/watch?v=DmQ9hBYbZRo