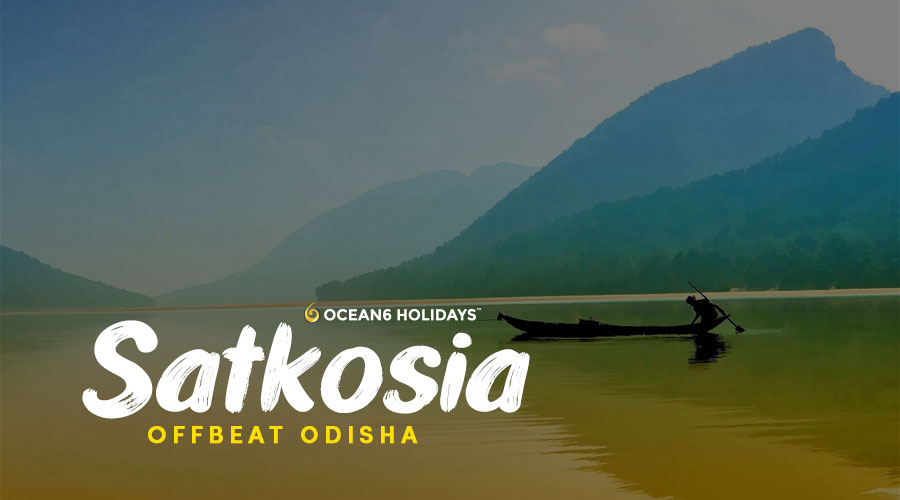 Odisha is a beautiful state in India that offers an ornate potpourri of bountiful natural beauty, architectural splendors, highly admirable and deep-rooted culture, and mouth-watering delicacies. This beautiful state is also blessed with picturesque sea-beaches. There are many attractions in Odisha. But some of them are hidden in the interiors. Odisha has many popular destinations that are known to the world. But every now and then travellers wake up to some undiscovered places that nature hides in its embrace. Once nature opens its embrace, we get to see a new treasure. And then travellers escape the frenzy of the known commercialized places and set foot on this off the beaten track destinations.
One such place is Satkosia that is bustling with nature's brilliance. It is veiled by thick spruce and lofty green hills. It is an enormous mountainous reserve that is also a Tiger Sanctuary. This majestic place lies 125 kilometers northwest of Bhubaneshwar and is stands on the banks of River Mahanadi. Satkosia Forest Reserve has two zones- Badmul, the primary zone, and Tikarpara, the secondary zone. Badmul is also known as Gorge Sanctuary or the Southern Satkosia. This ideal holiday destination is for people who enjoy the silence of nature, quietude, and solace. The resort at Badmul lies at a hilly region at the base of a mountain from where you can view the serpentine movement of Mahanadi through the golden sandbanks. The Satkosia Tiger Reserve is made up of a sprawling area of 964 square meters.
Most of the properties will enchant you with not only the mountain all around but also with an opportunity to spot wildlife that can be Sambars, Dholes, Leopards, Spotted Deers, Crocodiles, and Wild Cats. The property is equipped with seven mountain slope facing AC Cottages and nine Swiss Cotton Tents. These opulent accommodations provide scenic views from all sides.
Outdoor Activities at Satkosia – The first and foremost thing to do when you are holidaying in Satkosia is to get up close and personal with nature. Gaze at the mountains, river, and sky and observe the little nuances that the nature has to offer. Observe nature at different times and get bewildered by its changing facets throughout the day and night.
Bird and Wildlife Watching – Look out for the avian beauties and the feral beings. You can see numerous common birds as well as migratory birds. The local avifauna includes Sunbirds, Pied Hornbills, Minivets, Peafowls, Barbets, Kingfishers, Golden oriole, Egrets, Woodpecker, Cormorants, Doves, and River Terns. If you are fortunate enough you can spot some wildlife, so always be click ready.
Jungle Trek – You can go on organized treks through the hills.
Boating – Soak up the breath-taking views while boating in Mahanadi.
Local Cultural Performances – Spent an enthralling evening watching the folk dances and understanding the culture of Odisha. Folk Dances can be arranged on request.
Some other activities involve swimming, camping, eco-cycling, bon-fire, sands sports, etc.
Places to visit near Satkosia
Daringbadi – Daringbadi is a hill station in Odisha. It is a 2-3 hours journey from the resort. It is canvassed in waterfalls and pine forests. It is also known as the 'Kashmir of Odisha'.
Kuanria Deer Park and Kuanria Dam – This is a beautiful place to see seasonal birds during winter.
Gharial Research and Conservation Unit – This is in Tikarpada. It was founded in the year 1975. This place has been the natural habitat for Gharials and the Mugger for a long time. This unit is actively involved in rearing and research programs for the conservation of those species.
Kantilo Nilamadhav Temple – This antique Vishnu temple is on the banks of Mahanadi. From being a popular pilgrimage site, it is also known for its natural beauty. It takes approximately an hour from Satkosia Resort.
Nature Camps – There are several Nature Camps such as Tikarpada Nature Camp, Siddhamula Nature camp & Chotkei Nature Camp that are accessible within 1 to 3 hours.
Sarankula Temple and Atri hot springs are also favourite sightseeing spots.
Best time to visit Satkosia – The Satkosia Sanctuary can be visited from October to February. Otherwise, December and January are the two best months to visit this place.
How to Reach Satkosia
By Road – It will take around 10 hours by car to reach Satkosia from Kolkata.
By Railway – Khurda Junction is the nearest rail station that lies at a distance of 88 kilometres from Satkosia. Time taken will be 2 hours and 30 minutes by car.
By Air – The closest airport is Biju Patnaik International Airport, Bhubaneshwar that is 113 kilometres away. From there, it will take a car for around 3 hours and 30 minutes to reach your destination.