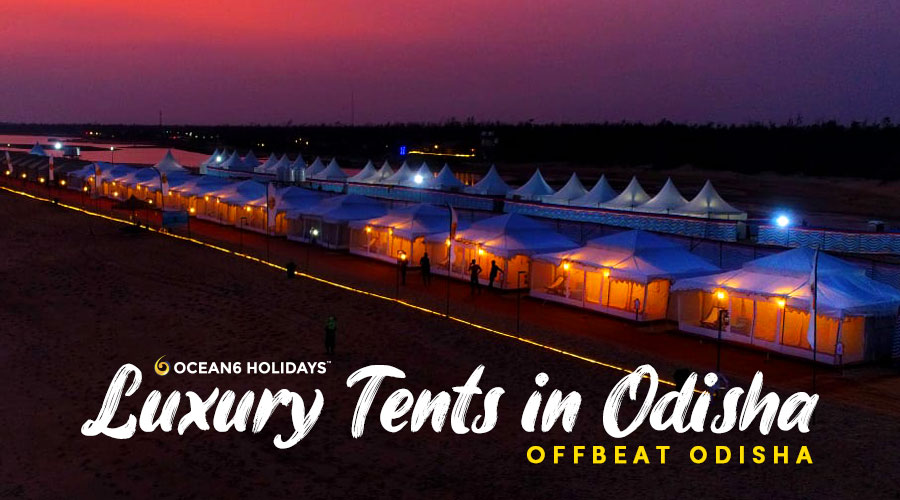 India is incredibly beautiful. Therefore it's a no-brainer that the Indian states are beautiful also. Because all the beautiful states together make India. One of such states is Odisha. It lies in the eastern part of India. Nature has poured lots of extraordinary natural elements such as lakes, rivers, sea beaches, forests, etc. on Odisha. One of the most visited and beautiful places in Odisha is Puri. It is flocked with visitors all year through. Previously when we spoke about Odisha, we would talk about a handful of places like Puri, Chilka, Chandipur, Gopalpur, etc. But now Odisha is peeling its layers and slowly showing the world what other places it has hidden from is. That is why Odisha got the name as India's best-kept secret. The off-the-beaten-tracks places have spurred the visits of tourists. This princely state not only has picturesque places to visit but is also famous for its delicious cuisines.
Satkosia
The more you travel in Odisha, the harder it will get for you to decide which place is the best. Let us start with a hidden gem of Odisha; Satkosia. The unique wilderness of Satkosia will keep you glued to this place. It covers a large area spreading over the splendid gorge and is located on the riverbanks of River Mahanadi. This scenic place with verdant mountains and soaring green hills is also a famous Tiger Reserve. You can have a guided forest walk in the panoramic wilderness of Satkosia. Watch the sunset from a beautiful viewpoint in Tikarpada Wildlife Sanctuary. The evening can be spent at Camp Site watching a cultural program or enjoying an open-air film screening. Spend the mornings indulging in healthy activities such as Zumba, Yoga, or meditation inside the forest. Boating in Mahanadi is another pleasurable event that you can be a part of.
Starry Nights from Luxury Tents
If you have planned to spend 2 nights here, then you can visit Deojhar Waterfall and Champeswar Temple also. You will get different types of luxury tents in here. The Royal Cottage and the Deluxe Swiss Cottage are two glamping tents. Want to know what glamping is? Camping in a luxury style is called Glamping. The cottages are well-furnished with necessary modern facilities.
How to reach Satkosia? – It takes approximately 3-4 hours covering a distance of 140 kilometers to reach Satkosia from Bhubaneswar.
Darinbadi
We will cover 4 places in offbeat Odisha where luxury tents are available. One has been covered that is Satkosia. Now let us travel to 'the Kashmir of Odisha'-Darinbadi. This is a spectacular hill-station in Odisha that is perched at a high altitude. At present, Daringbadi can be called the 'hot-cake' of Odisha. It is located in the Kandhamal District of Odisha. Tall pine trees, thick spruce, lush meadows, heavily filled mountains ensconce this majestic place. The thundering Midubanda Waterfall is a famous sightseeing spot in Daringbadi. The waterfalls from high up in the mountains and creates a pool at the base where it is accumulated. There are other waterfalls also that is encircled by trees and flowers. Daringbadi is a realm of nature's abundance. This is one of the best places for hiking fans. Another place to visit is the Daringbadi Coffee Garden. You can see the coffee plantation and interact with the farmers.
Saraswati Cave is a great attraction of Daringbadi that many don't know about. You can also explore the surrounding of the cave where many old caves and rocks are found. Another very beautiful spot that you should visit is Mandasaru Gorge. This place is enclosed by dense deciduous moist tropical forests. Silence and calmness will fill you up in this splendid place that is also rich in biodiversity. One after another 22 hills is places in this area among which the Saashimala Maanda Hill is the highest standing above all at 3280 feet over sea-level.
Thanda Thanda Cool Cool at the Luxury Tents in Darling Darinbadi
Spend your evenings or leisure time at the campsite. In the mornings do some exercises such as Meditation, Yoga and Zumba. Outdoor Film screening and ethnic programs are a couple of precious events that will make you enjoy your time there. The luxury tent here includes the Deluxe Swiss Cottage that is furnished with a spacious front porch, air-conditioner, attached bathroom, twin beds, toiletries, etc.
How to reach Daringbadi? – From Bhubaneswar, it will take you around 6 hours to reach this luxury tent in Daringbadi. The distance that you will cover is about 247 kilometers.
Hirakud
The next off-the-beaten-track destination that we will head to is Hirakud. Another finest offering of Odisha is the Hirakud Dam. It is supposed to be one of the longest man-made dams in the world. It is situated in the Sambalpur district of Odisha. The dam is not only an impressive and picturesque water body but it also provides electricity to all the areas close by. This has also become an appealing place for bird-watchers as many rare and exotic birds are found here. Apart from the dam, Hirakud has a fantastic ropeway that connects Gandhi Minar with Jawahar Udyan. You will get a great view of the dam from the ropeway. Debrigarh Wildlife Sanctuary is another sightseeing spot where you will get to see animals, flora and fauna, avifaunas, and other variety of species like spiders, butterflies, etc. You can also go to Deer Park or have a cycle-ride at Dyke.
Enjoy an exquisite luxury tent experience
Cultural Events are held at the campsite in the evenings and also open-air film screening is arranged for the guests. Start your mornings with Meditation, Yoga, and Zumba that will keep you healthy and get you going strong for the day. Here you will find the luxury tent options in the form of Royal Cottage and Premium Swiss Cottages. These cottages are befitting relaxing places with amenities like the master bedroom, AC and heater, dressing room, private dining area, tea/coffee maker, etc.
How to reach Hirakud? – A distance of around 290 kilometers and 8 hours from Bhubaneswar will take you to Hirakud's luxury tents.
Konark
Our last destination is a very well known destination. Konark, the architectural splendour of Odisha. The heritage, history, and culture of Konark are unmatched. It is a festival of ancient culture. The Sun Temple in Konark is famous all over India and the world and is also a UNESCO Heritage site. There are 24 wheels of Surya God's Chariot that have depictions from the past. The intricate designs on them are simply astonishing. Konark Museum is also very famous. A new attraction is the sand sculptors on the beaches of Konark. The artists make unbelievable designs and sculptors with sand. There are many activities that are held here, some of which are chargeable and some are not. Some examples are ATV rides (chargeable), basic surfing lessons are imparted by expert instructors, Rifle Shooting, Speed Boats (chargeable), Beach Volleyball, etc. Embark on a nature and forest walk in Balukhand Sanctuary. You can also pay a visit to the Raghurajpur Artisan Village in Puri. 1000 families dwell in the village. You can see their art and have an interaction with them.
Have you ever imagined spending a night at Luxury Tents on a Beach?
Watch the sunrise across the horizon while you do some Yoga, Zumba, or Meditation by the sea-beach. Here the luxury tents comprise of Presidential Suite, Royal Cottage, Premium Swiss Cottage, and Deluxe Swiss Cottage. Enjoy your evenings with ethnic programs by the beachside.
How to reach Konark? – To reach your luxury tents in Konark, you have to travel nearly 90 kilometers from Bhubaneswar that will take up to 1 hour and 45 minutes.
Living in luxury tents or glamping gives a whole new definition to vacation. Taste the fun and the experience attached to spending a night or nights in luxury tents. Hope this trip will be a captivating one for you and your loved ones.