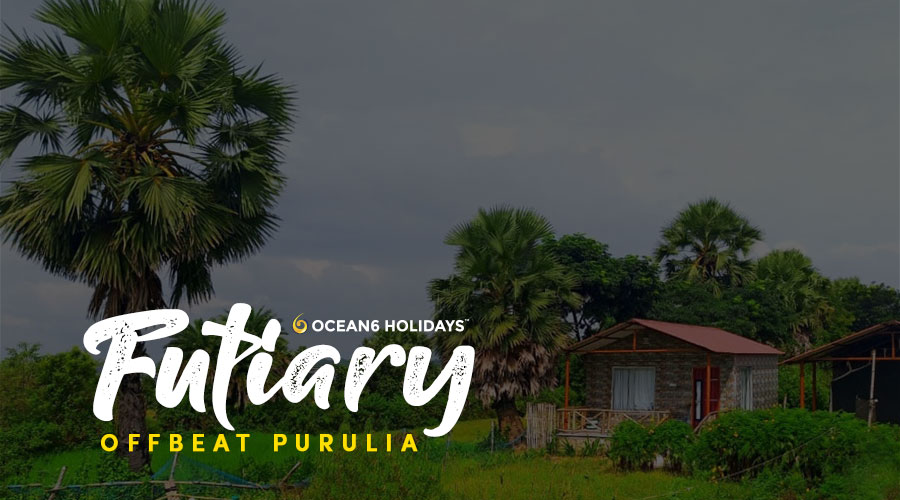 Futiary is a beautiful yet unknown land, away from the dirt and grime of Kolkata. Futiary is another outstanding offering from Purulia. This place with a pretty dam grabs everyone's eyeballs. This incredible place is endowed with a beautiful dam that witnesses many beautiful and rare migratory birds in the winter. Photographers and bird lovers will find Futiary as their haven. The water seems to be of different hues. The water near the shore is pale yellow. Whereas if you go a little further, it becomes a beautiful shade of green and if you go still further, the water takes of colour of blue. You will find many children having a dip in these waters. Three hills ensconce Futiary. They are the Panjonia Hill, Tilaboni Hill, and Sindurpur Hill. These graceful hills bring you to closer to Mother Nature. It gives you the impression that you can touch, feel, and smell nature.
Distance from Kolkata – Futiary lies at a distance of 240 kilometers from Kolkata.
Best time to visit – Barring the three horrid summer months, you can visit this place at any other time. If you visit during winter you can see the migratory birds. So you can visit during Monsoon, Winter, Spring or Autumn.
What to see – There are many places to see from Futiary. The scenic Tilaboni Hill is only 4 kilometers from Futiary. Sindurpur Hill is the source of the Darakeswar River lies around 6 kilometers from Futiary. If you travel 22 kilometers, you can have a sightseeing of the Surulia Dear Park. What remains of a magnificent ruin of Panchokot Palace still continues to inspire visitors. This place along with Kangsaboti River and Keshar Garh Forest is about 27 kilometers from Futiary. The history-laden Kashipur Rajbari is hardly 18 kilometers from here. 21 kilometers from Futiary will lead you to Pakbirra Vairab Sthan which is an ancient Lord Shiva Temple. You can also visit Jaichandi Hills which is round about 25 kilometers from Futiary.
Things to do – First and foremost thing to do is to embrace nature with arms wide open. Roam around the village and get a feel of the rustic and real village life. Experience the beauty of the hills. Sit at the bank of the river/dam and let your mind wander free. Nature will teach you many lessons and will give a fresh perspective to your life.
How to reach Futiary – You can avail both railway and roadway. If you are going by road, take the Durgapur Expressway and it will take around 6-7 hours. If you choose the train, then you can get down at Adra Station or Purulia Station from where you can hire a car to reach Futiary.
Where to Stay – There is a spectacular resort all snuggled up in the midst of the picturesque hills of Panjonia, Tilaboni, and Sindurpur and beside the fringes of the Futuiary Dam. The resort has sweeping views of the surrounding. This is the ultimate destination to spend your weekend. There are lots of activities for adventure aficionados like cycling, trekking, boar-rising, etc. The resort has tent/cottages with the latest facilities and also a super deluxe room. The resort also arranges for Chhou Dance that is a special folk dance of Purulia and also Bonfires. This cozy resort will also serve you delicious and lip-smacking food.