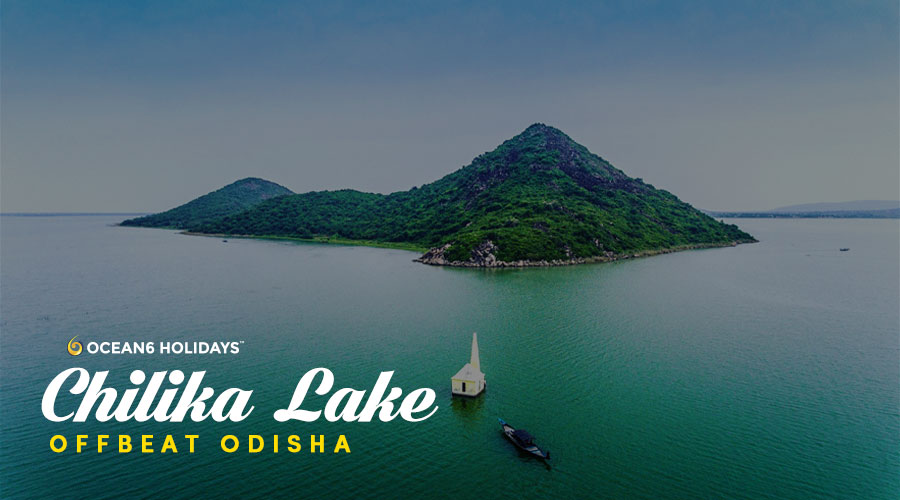 Chilika Lake is Odisha's famous lake as well as a very renowned tourist destination. It is Asia's largest brackish water lake. It is dotted with some small islands. Two such famous islands are Breakfast Island and Honeymoon Island. It is a pear-shaped lake; in fact, it's actually a lagoon because of its proximity to an ocean and because it is a saltwater body. This is the only lagoon in India where Dolphins are spotted and also the biggest coastal lagoon in India. Many tourists flock to Chilika Lake all year round with the desire to catch a glimpse of a dolphin. Everybody enjoys the boating ride in Chilika Lake. The area of the water body is approximately 1165 kilometers. Some exceptional varieties of avifauna are found in the area. Due to this, it is one of the most significant wetlands in the world. This lagoon becomes home to about 160 species of migratory birds during the winter months.
Chilika Lake basically covers three districts of Odisha; Ganjam, Puri, and Khurda. This beautiful lake has nearly 225 assortments of fish. While taking the boat ride during the winter months, the atmosphere around reverberates with the lovely din of the seasonal and local birds. It is noteworthy to mention that many rare migratory birds come from all over the world, even as far as Siberia. Flamingos, in particular, are worth watching. The birds also come from the Himalayas, Afghanistan, Iraq, and Iran. Chilika Lake is an important habitation and mating ground for aquatic, residents and migratory birds. It has a very distinctive eco-system that is called the Chilika Lake Bird Sanctuary. The Irrawaddy Dolphins are the crown jewels of Chilika Lake. Rambha and Balugaon are the main towns that act as entry points for the lake. Another striking feature of Chilika Lake is its sunrise and sunset. Chilika Lake is fed by Bhargavi and Daya Rivers during all the months except December to June. At that time saline water enters through a small passage.
Unique History of Chilika
There are two versions. One of a legend and one by the geologists. Legend says that a pirate King named Raktabahhu came to loot Puri but found the place empty. He became angry and felt that the sea betrayed him, so he ordered his army to attack the place. Then with many twists and turns, the sea drowned the place and Chilika lagoon was thus formed.
Geologists suggest that the seashore of Chilika existed even in Pleistocene times and the whole northeastern area above Chilika was below the sea. Eventually, the sea moved eastwards, and then it is supposed to have moved and risen a few times. Ultimately Chilika was born because of a sudden change in the direction of the north coast.
Wildlife in Chilika
Ornithologists, nature lovers, and practically everyone else love Chilika Lake because it's the true haven for innumerable birds. During winter a large number of migratory birds make the place in and around Chilika Lake as their abode. Some rare species of birds that one can get to see includes herons, flamingo jacana, purple moorhen, Graylag geese, and white-bellied sea eagles.
Many feral beings also call the surroundings of Chilika Lake as their home. Hyenas, spotted deers, golden jackals and blackbuck are some of them. The Chilika Lake itself is also very rich in marine species. A wide range of aquatic life is found in the waters of Chilika Lake. It is filled with fish, crustaceans such as prawns, and crabs, and not to forget the adorable Dolphins. Here one can find more than 225 species of fish that include the Elops Machnata, Alepes Djedaba, Arius, and Acentrogobius Griseus.
Flora in Chilika Lake
The prosperous region of Chilika Lake comes alive with the blooming of flowers that are non-aquatic in nature. A recent study has found that there are over 710 varieties of plants in and around the famous lake. Some of the flora and fauna are not only rare but also endangered.
Places of interest
Satapada – This is a scenic place situated on the east side of the lake. The place is guarded with lakes on three sides. This is the nearest location to Dolphin Point from where you can get to see bottle-nosed dolphins and Irrawaddy Dolphins. Puri is hardly 50 kilometers from Satapada. Eco-park and the interpretation center are two of the popular spots here.
Mangalajodi – This little village lies on the northern fringes of Chilika Lake in Odisha. It is barely 70 kilometers from Bhubaneswar. Surrounding it are expansive stretches of marshlands that are home to a wide variety of resident birds and migratory ones as well. Since this is largely marshy land, it attracts mostly water birds. An interesting fact about Mangalajodi is that it was called a poacher's village as obviously the villagers were engaged in poaching activities. This place is now aided by Mangalajodi Eco-tourism. Coming back about the birds of Mangalajodi, Jacobin Cuckoo migrates here during the wintry months. Other birds include the pied cuckoo and the baya weaver that visits from Africa and other parts of Asia. This place is perfect for bird aficionados, but whether you love watching them or photographing them, it will be an unforgettable experience.
Manikpatna – History believes there used to be a port here for trading with far-east Asia. There is an ancient mosque and a Baba Kundalesdwar temple here.
Breakfast Island – From Rambha, a 20-minute boat drive will take you to Breakfast Island. This funny name has a reason. Tourists pack breakfast from their hotels and have it in the beautiful and natural surroundings of the island. Honeymoon Island and Beacon Island are also near to Breakfast Island.
Kalijai Temple – Kalijai is an island where there is a holy temple of Devi Kalijai who is greatly revered by the local people. In the month of January when Makar Mela (the time of Makar Sankranti) is held, a huge number of pilgrims flock to this place. You can easily access this place from Barkul. You will also get to see many peacocks loitering in this area.
Nalabana – It is a bird sanctuary that is governed by the Wildlife Protection Act. Nalabana's location is simply amazing. It is placed in the middle of the lake. During winter you can feast your eyes on the rare and exotic avian. Interestingly, the island gets totally submerged in the monsoon.
Rambha – Rambha is situated at the southern coastline of Chilika Lagoon. Rambha takes pride in its alluring picturesque beauty with many islands sprinkled over it. It has a view of Chilika Lake and the hills around it. You can go to Dolphin watching from Rambha and also visit some islands such as Breakfast Island, Birds Island, and Beacon Island.
Bird Island – This is the place where you can see the wonderful birds in their natural habitat.
Barunkuda – This Island has a temple of Lord Varuna and is near Satapada.
The Brahmaputra – This is a famous picnic spot for tourists and has lovely views.
Nearby Places of tourist attractions
Nirmaljhara – This is a temple in Khallikote. You can enjoy yourself with your dear ones here. Basically, Khallikote is a collection of different ponds that have come from a perennial stream. This is a very popular tourist destination. You can take bath in one of the ponds here. This temple made in 1676 is not only a place of worship; it will also help you to grab a self-indulgent moment for your soul.
Gopalpur – The hyper-active sea of Gopalpur will make your adrenaline rush. Big waves will drench you and the beauty of the place will mesmerize you. Once upon a time, it was a strenuous sea-port but today it's a serene area devoid of the boisterous crowd. Enjoy this beach destination and bring back many memorable moments.
Banapur – Banapur is mainly known for shopping and hanging outs. There are many markets and a well-known temple called Bhagawati Temple.
Narayani – Narayani Temple is 15 kilometers from Balugaon on the Eastern Ghats. People worship Goddess Ma Narayani who has six hands. The location of the temple is very scenic. Devotees and picnickers alike prefer this place a lot.
Salia Dam – Constructed on River Saila, the dam is a site of extraordinary beauty. The distance from Barakul is 15 kilometers and from Rambha, its distance is 25 kilometers.
Few Weekend Getaways from Chilika
Berhampur – 195 kilometers from Chilika.
Puri – It is around 98 kilometers from Chilika.
Paradip – 83 kilometers from Chilika.
Bhubaneswar – About 27 kilometers from Chilika.
Udaygiri – 232 kilometers from Chilika.
Best time to visit Chilika Lake
The ideal time to visit Chilika Lake and enjoy it to the fullest is between October and March. This is the time when all the above mentioned rare and beautiful avifaunas are witnessed. However, you can visit this place all year round as it remains more or less warm throughout.
How to reach?
By Road – You can take a bus from the Baramunda Bus Station in Bhubaneswar or from Badambadi Bus Station in Cuttack. These buses will ply to Balugaon all day long. The state government of Odisha (OSRTC) also has bus services from Bhubaneswar. These buses are faster and also very frequent. It will take you nearly 2-3 hours to reach Bhubaneswar. From there you can reach Barkul, Rambha, Satapada, Balugaon and other places by public means of transport or by booking a cab.
By Air – The Biju Patnaik Airport in Bhubaneswar is the most nearby airport to reach Chilika. You have to travel 110 to 120 kilometers to reach Chilika. It is a two-hour ride approximately. Buses, taxis, and trains are available to take you to Chilika.
By Train – The railway station near at hand is the Balugaon Rail Station. This is on the Howrah-Chennai track. From Balugaon Rail station you can avail bus service.
This renowned place with natural beauty should be added to your bucket list of places to travel. Find out the treasures of this place and its surroundings. Get mesmerized by the magnificent and marvelous beauty of Chilika.