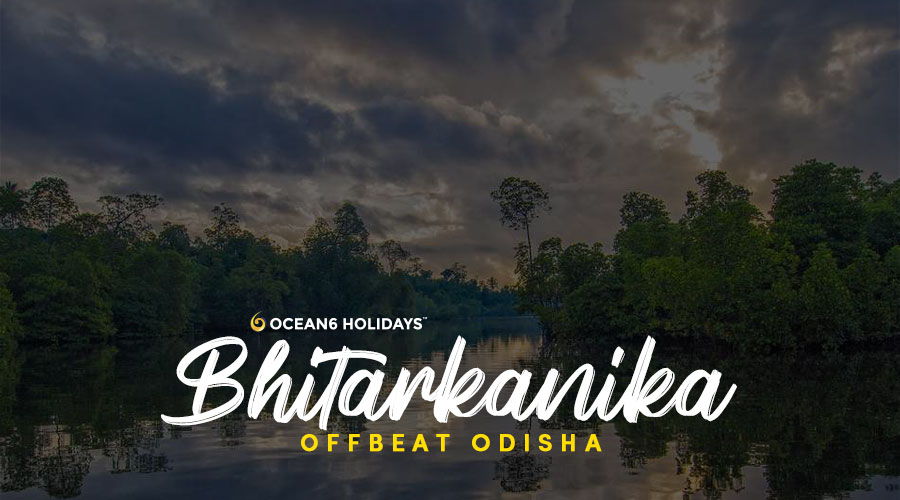 Odisha is a state with myriad hues. It is dotted with beaches, architectural marvels, lush forests and hills, and also wildlife sanctuaries. If you are an avid traveler, you will find Odisha a perfect place for 'hide and seek'. There are places that you never knew of in Odisha. At the same time, there are so innumerable popular destinations that remain crowded all throughout the year. You are invited to be the viewer of this natural phenomenon of shy Odisha. The food of this place needs a special mention. The traditional mouth-watering Odisha cuisine will leave you craving for more. Suggesting some food names for you when you travel next; Bara, Dahibara Aloodum, Khaja, Rasabali, etc. But today we will go a little deeper into Odisha and find out about Bhitarkanika.
Bhitarkanika is a National Park and also a renowned one. The park is spread out over an area of 125 square kilometers. It is situated in Kendrapara district in northeast Odisha. Sitting on the coast of the Bay of Bengal Bhitarkanika is surrounded by Mangrove Forest and estuaries. Bhitarkanika National Park provides a glorious biodiversity. Sometimes called the Amazon of India, you can be the fortunate beholder of amazing wildlife such as monitoring lizards, deers, king cobra, Indian python, black ibis, and saltwater crocodiles. Bhitarkanika hides more than it reveals. It is really a wilderness gem not only in Odisha but also all over India. The beauty of Bhitarkanika doesn't stop here.
Most of the properties will enchant you with not only the mountain all around but also with an opportunity to spot wildlife that can be Sambars, Dholes, Leopards, Spotted Deers, Crocodiles, and Wild Cats. The property is equipped with seven mountain slope facing AC Cottages and nine Swiss Cotton Tents. These opulent accommodations provide scenic views from all sides.
The wonderful beauty of its flora-fauna is worth watching. There is a long list of rare and migratory birds found here. Some of them are woodpecker, sea-gull, brahminy ducks hornbill, and white-bellied sea eagle. This National Park has three types of crocodiles, freshwater crocodile, Saltwater crocodile, and alligators which are hardly found anywhere else. There is also supposed to be an albino female crocodile that is kept in an artificial pond. Her name is 'Gauri'. You will get a multitude of experiences to remember in your whole life.
Outdoor Activities
Bird Watching – It is a paradise for birds. You will get the chance to see many rare species of birds such as Herons, Asian Open Bill, Darters, etc. You do not have to be Nature or Bird Lover to appreciate their beauty. They are truly mesmerising. These winged-feathered friends are mostly seen from October to February.
Wildlife Watching – Bhitarkanika is not only one of the famous wildlife conglomeration but also one of the biggest. Dolphins, Crocodiles, Mudskippers, etc. are often found. You can get to see many species of reptiles and Amphibians. Always stay attentive.
Boating – You can do boating from Khola or Gupti. A whopping variety of ninety mangroves can be found here. While your boat navigates through the creeks, you will get to see all these amazing faunas. Experience the beauty Nature has to offer and make it a memorable time of your life.
Places to see nearby
Hukitola – This place is a breeding ground for horseshoe crabs. The antiquity of this island lies in British Ports and Lighthouses. The age-old Hukitola building is the highlight of British designs and a remnant of the past.
Kalibhanjadiha Island – It is a reef of seven islands and can be reached from Khola by boat. You can spot animals like crocodiles, spotted deers, and wild pig. It is situated in the river Dharma.
Batighar – This is the remarkable place where the first lighthouse on the eastern coast was built. Both sides of the river are covered in dense mangrove forests. A boat ride from Jumboo will take you an hour and forty-five minutes to reach Batighar. The natural beauty is in bounty in this region and has the power to spellbind you.
Gahirmatha – This place is famous for being one of the world's largest known hatcheries of Olive Ridley Sea Turtles. This is a fascinating beach with an amazing marine sanctuary. This place will transfix you with its attractive beauty. Apart from travelers, many scientists also visit this place.
Best time to visit – Winter months are the ideal time to visit this place. The hot and humid temperatures are inconvenient for you also and the animal sightings are much lesser except sometimes in early dawn and dusk. Lots of migratory birds are seen during winter.
How to reach Bhitarkanika
By Road – It will take you around 10 hours to reach your destination from Kolkata. The distance is about 493 kilometers if take the Kharagpur-Balasore-Bhadrak route.
By Railway – The closest railway station is Bhadrak Junction from where it will take you approximately 4 hours and 50 minutes to reach your place by car. The distance is around 142 kilometers.
By Air – Biju Patnaik International Airport in Bhubaneshwar will be the closest airports. From there you can take a car that will transport you to your destination in about 4 hour's time covering a distance of 160 kilometers.