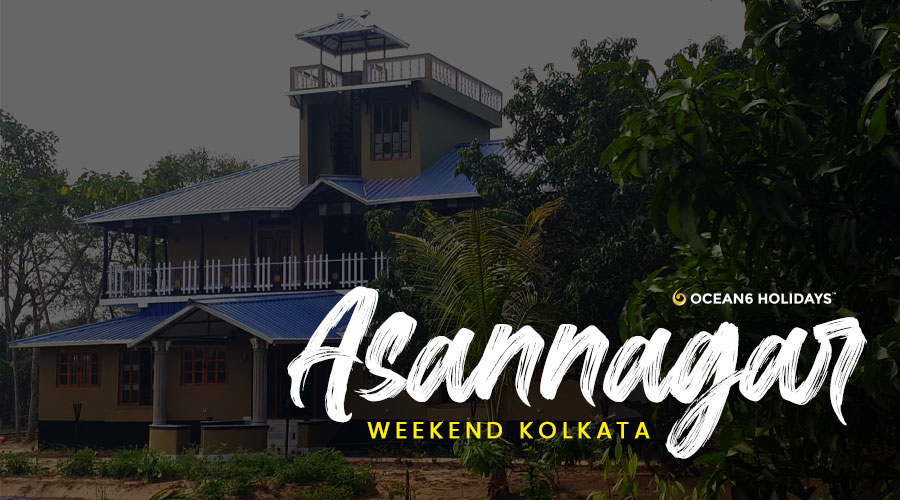 Take the road less traveled and you will find a gem of a weekend destination. Asannagar is one such place that is 120 kilometers from Kolkata. This is an ethereal village in Krishnanagar. This hamlet stays away from the madness of the commercial world. And for this reason, many of you may not have heard about it. It is like one of those fantasy stories where you can enter an enchanting world from the world where you are living. This bucolic scenery seems to have escaped from a painting. As you enter this eco-friendly village, you will be wrapped up in the sheer rural hospitality and purity of the place. Asannagar will detoxify your body and mind and you will open the eyes of your soul. This incredibly snug hamlet is immersed in foliage all around.
Spend a couple of nights in a cozy, rural farmhouse that is not only near to nature but also truly experiences the sanctity of Bengal's soil. The light breeze will encircle you and make you forget your stressful life that you otherwise live in the fast-paced city. The homestay overlooks River Jhor and the geniality of the locals will overwhelm you. Watching the precious golden sunrise from a village house is an exhilarating view we do not get to see every day from our concrete matchboxes that we have accepted as our homes. Sip a hot cup of tea after you wake up and give a big yawn after a very good night's sleep. Sometimes by doing nothing, you can do a lot of things. You can observe women carrying thatches on the head or filling their clay pots with water, farmers ploughing the field, little children diving in the pond, and many such simple things in life that fill our hearts with pleasure and happiness. Different shades and colours of life will give you the true and inner meaning of life and living.
As the evening starts to set in, you will see how everything and everyone including human beings and birds and animals slowly retreating in their respective abodes. You can embark on a country boat ride and enjoy the vistas surrounding you. You will hear some soulful and melodious 'Baul' songs at a distant or temple bells ringing during the evening puja. It will ensconce you in peace and awaken your spirits. Very astonishingly, you will realize that the nature in these rural places has a sweet and unadulterated smell. And when with all these you can enjoy freshly made 'Phulko Luchi and Aloor Dum', 'Kosha Mangsho' (Mutton) and Sweet Pulao, among other tasty dishes, not only your stomach gets filled but also your heart to its fulfillment.
Outdoor Activities
You can go on a village stroll. Aimlessly take a path and see where it takes you.
If you are an ardent bird lover, you can go on bird spotting and so you can keep binocular with you.
Take a boat ride on the river Jhor and relish the surrounding views.
You can indulge in some fishing activities.
Enjoy a dazzling Bonfire and have the fried fish from your catch of the day.
Nearby places of attraction
Nabadwip – You can visit this place from your farmhouse. It is the birthplace of Chaitanya Mahaprabhu. It is around 27 kilometers from there.
Sibnibas – This place has the biggest idol of Lord Shiva in Asia. It lies 8 kilometers from the farmhouse.
Mayapur – This place is renowned for Iscon Temple and is about 25 kilometers from your place of stay.
Akshay Bot Talla – There is a large Banyan Tree spreading over an area of 6-7 bighas. This is near River Palda. It is only 9 kilometers from your homestay.
Ghurni, Krishnagar – Also called Putil Patti, it is 13 kilometers away.
Khore River, Krishnanagar Church, and Rajbari can also be visited. It is hardly 12 kilometers from the farmhouse.
Best time to visit
You can visit Asan Nagar all year through. In Bengal, summers are hot and humid but still, you can visit this place because as there is no pollution, the heat is also less.
How to reach
By Air – The nearest airport is Netaji Subhas Chandra International Airport in Dum Dum. From there you have to travel by road to reach Asannagar. It is approximately 93 kilometers if you take some intersections of Kalyani Expressway and Highway 8. It should take you around 3 hours to reach your destination.
By Road – If you take the route: Kolkata-Ranaghat-Badkulla to Krishnanagar bypass-Kulgachia-Asannagar, then the distance will be about 130 kilometers.
By Train – If you choose this mode of transport, you either get down at Majhdia Station or Krishnagar City Junction.
Enjoy this gem of a place encircled by nature. As you go into these interiors, you will be greeted with the true heart and soul of Bengal. If you are planning for a trip choose the traditional path this time and visit Assanagar.