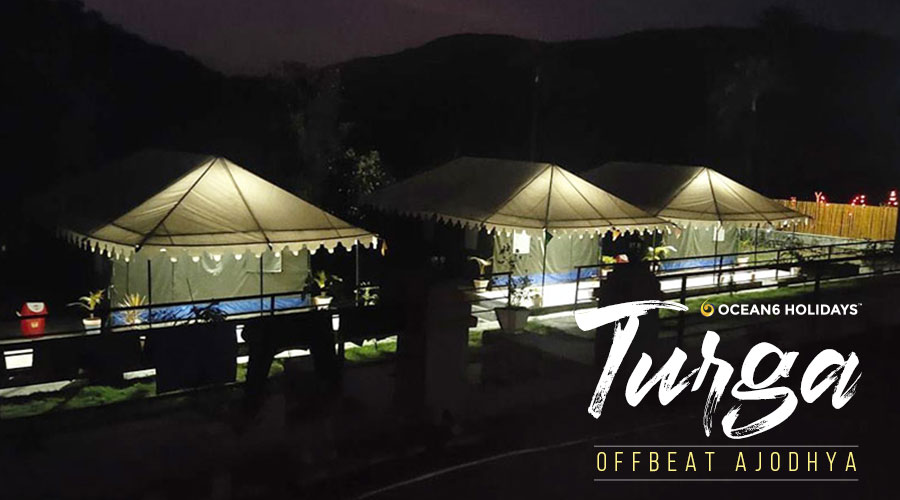 Turga is a small quaint hamlet in Purulia. The beauty of Turga is like a superb masterstroke of painting on nature's canvas. The Turga Waterfall over here is of rare beauty. It seems like it's flowing down from the clear blue sky. Turga is an unexplored yet picture-perfect destination along with Bamni Falls and Chandil…. Turga is situated on the way from Bagmundi to Ajodhya and appears as a spot splashed with different colours. The cascading waterfall is so pristine as if it was a transparent piece of glass. Many visitors flock to this waterfall to experience its unique beauty. The force of this magnificent waterfall is so strong that it forms a cloud of drizzles or steam trying to reach the sky. The beauty of this place can be best experienced if you spend a night in a camp. It will take you close to nature. The twinkling stars in the night sky will give you a peaceful sleep. The tents/camps are equipped with modern amenities. This place is a perfect blend of rivers, waterfalls, hills, and jungles. Few days spent here will definitely rejuvenate your mind and body.
Distance from Kolkata
Turga is located approximately 345 kilometers from Kolkata.
Best Time to Visit Turga
Each season adorns Purulia with different beauty. The springtime in Purulia is covered with 'Palash' flowers. During the winters, many visitors come to this place to enjoy the chill and its scenic beauty. Monsoon brings with itself another beauty. The beauty of the rain drenches Purulia with evergreen nature that will soothe your soared eyes. Autumn fills the lands with white 'Kash Phool' or 'Kash' flowers or wild sugarcanes and your heart will desire to wander through these lovely flowers. You can visit Purulia anytime except for the sweltering summer season.
What to see in Turga
Turga Waterfalls, Bamni Waterfalls, Bagmundi Hills, Chandil…. are some places of attractions. You must also see Charida Mask Village and the beautiful areas of Ayodhya.
Things to do in Turga
Take a stroll along the village roads or simply observe nature. The chirping of the birds in the morning or the starry nights will evoke heartwarming emotions.
How to Reach Turga
Purulia can be reached by road and also by train. Alight at Purulia Station and take a car to your destination. By road, it will take around 7 hours to reach Purulia via NH16. This is truly a beautiful off-route weekend destination.
Where to Stay in Turga
The Turga Camp is located just beside the Turga Dam amidst nature at Ajodhyay Hills that is in the Purulia district of West Bengal. There is plentiful greenery all around. The camp provides neat, clean and beautiful premium tents. You can indulge in lots of activities here like hiking, jungle trekking, biking, cycling, camping at the Dam and Fountain side, etc. Even bird watchers and wildlife enthusiasts will find this place rewarding. You can also experience cultural and folk programs inside the Campus. This nature camp is an ideal escapade for tourists who are searching to spend a couple of days in the wilderness of nature.
More Info on Turga | Other Destinations of Purulia