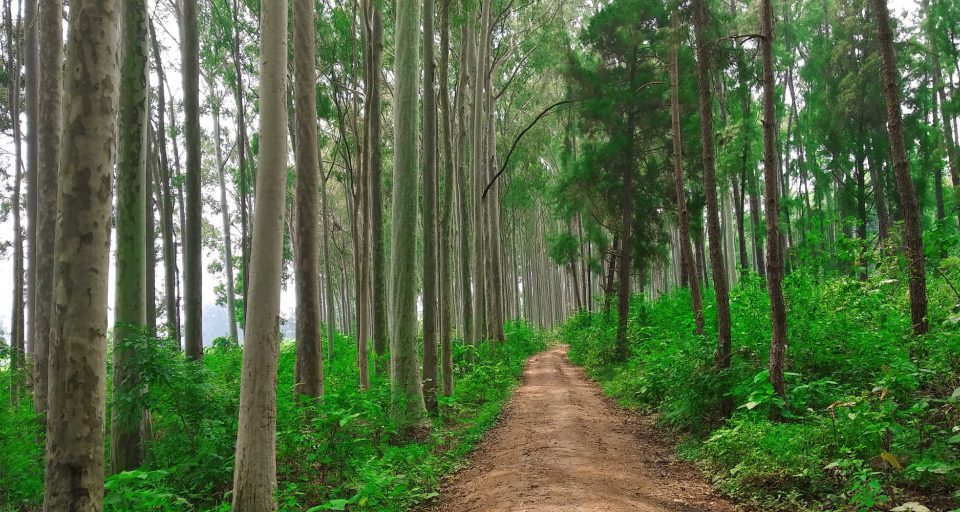 Odisha is normally famous for its temples and sea beaches but off-late a beautiful hill station in the state has become the new crowning glory of Odisha. The name of this precious diamond of Odisha is Daringbadi. The place is named after a British officer named Mr.Daring who was in control of the place. And 'badi' means village in the local language. Daringbadi is fondly referred to as the Kashmir of Odisha. Daringbadi is called the Kashmir of Odisha due to a similar climate and high altitude. The new darling of Odisha is rapidly gaining stardom among tourists. Many travelers flock to Daringbadi from different corners of the country for its stellar natural beauty.
This beautiful hill station is spotted with thick and graceful pine forests and cascading waterfalls. Daringbadi is in Phulbani which has quite a few famous hilly destinations in the state of Odisha. It lies in the district of Kandhamal in Odisha. It is located at a height of approximately 3000 feet above sea-level. Daringbadi has many gushing rivers and pepper and coffee plantations. This place is wreathed in scenic plateaus and wavy valleys. There is also an eclectic mix of various cultures in Daringbadi. "Kutia Kondhas", one of the oldest tribes in India live here.
How to Reach Daringbadi?
The closest rail station to reach Daringbadi is Bramhapur. Take a train to Bramhapur from your hometown. If you are going from Kolkata, you can board the Chennai Mail and get down at Bramhapur. This place is well-connected to other parts of India. From Bramhapur you can hire a cab or take a bus. Daringbadi lies about 120 km from Berhampur. Daringbadi can be reached via three routes by road from Brahampur. There is one route that goes via Aska – Kalinga ghanti – Mandasuru – Daringbari which is highly recommended. It can also be reached from Bhubaneswar. The distance is around 251 km. In fact, the nearest airport is in Bhubaneswar.
Is there public transport from Bramhapur Rail Station to Daringbadi?
Though there is public transport in Bramhapur but the frequency is very low.
How is the journey to Daringbadi?
In one word the journey to Daringbadi is fabulous. When you leave Aska, you will start to see the thick forests. The road condition is quite good. After some time, you will reach Kalinga Ghanti. This area is very beautiful. There is a long stretch of white cement wall on the side of the forests. This place will give a feeling of Darjeeling or other hill stations. You will also be greeted by something else on this road; monkeys and a lot of them. But please do not throw food at them because while collecting they might get involved in accidents and hence do not litter.
If you are hungry, you can get your fill at the Dhaba which is situated at the end of Kalinga Ghanti. The Dhaba is very appropriately named as Kalinga Dhaba. Next, you will reach Mandasuru. This is also a relatively new and off the beaten track destination. Mandasuru is also extremely beautiful. From Mandasuru, Daringbadi is another 42 km. You will pass through scenic landscapes and ultimately reach Daringbadi; your final destination.
Does it snow in Daringbadi?
During winter, the temperature touches zero degrees centigrade. In December 2019, Daringbadi experienced snowfall. However, please be informed that there is no occurrence of heavy snowfall in Daringbadi. It's light to moderate. It is normally sunny during the day but after sunset, the temperature plummets drastically making it biting cold.
The best time to visit Daringbadi
Definitely, the best time to visit Daringbadi is during the winter months. The winter months last from September to May.
What are the main attractions of Daringbadi?
Belghar Village & Sanctuary
This is an internationally renowned eco-village. There is a village on the hill-top. This tranquil place also has a sanctuary called Belghar Sanctuary. Lush mountains ensconce this area. There are many wild animals especially elephants. There are a lot of Flora and Fauna in here. Belghar is a very good place for adventure sports also. The decreasing height of the mountains is apt for paragliding. There is also a quaint wooden bungalow from the British era. Also, visit the Tribal village of the Kutia Konds or Kutia Kandhas from here. You can spend a night here at the Nature Camps. The Swiss tents provide basic accommodation with attached toilets.
Hill View Point
This is a very popular sightseeing spot. Tourists simply love this place. This can truly be called a vantage point as tourists can see the 360-degree vista of Daringbadi and its surroundings. There is a Park on this hill-top which has two watchtowers. The park is very nicely maintained has well-manicured.
Midubanda Waterfall
This waterfall is situated at a distance of 16 km from Daringbadi. Just note that you have to get down around 181 stairs to reach the base of one of best the waterfalls in Daringbadi. Before that, you have to walk a short while. The way is along with verdant threes on both sides. The water is gushing down from a mountain high up and a pond is created at the base where people also take baths. This is also a very scenic area for picnickers. It's an ideal place to pose and take pictures. You need to park your vehicle at the starting point. The entry fee is around Rs.50.
Coffee Garden or Coffee Plantations
The climatic condition of the area is very much susceptible to the growth of coffee. Hence coffee is harvested all year round. The coffee garden is looked after by the Soil Conservation and Forest Department of Odisha.
Lovers Point
This is basically a picnic spot in Daringbadi. This serene spot is 13 km from Daringbadi and is very scenic. The rocky hurdles are like the gateway to the picturesque vista in front of you. There is a small stream that flows through the big rocks and makes a melodious gurgling sound. The stream of water originates from a far off mountain and tactfully dribbles its way along the curvaceous rocky paths. It's beautiful to see how the pace of the water changes according to the position and balance of the rocks. The name lover's point doesn't mean lovers hang out in this place but because of the love that exists between human beings and nature.
Emu Breeding Centre
This enclosed area has quite a few emu bids.
What are some of the nearby destinations from Daringbadi?
Jirang
Jirang is the little Tibet of Odisha. This is a quaint little town amidst the Changragiri Hills. You will get an immersive experience in Jirang. This little-known place is not only popular for its pristine beauty but also because it provided a safe haven to Tibetans when China raged war on Tibet in the year 1959. The Tibetans have named this place as Phuntsokling; which means the 'land of happiness and plenty'. The monastery which is called the Jirang or Padmasambhava monastery is very picturesque. The demeanor of the monastery and the Tibetans have added a dash of peace, happiness, and colour to this place.
Tara Tarini
It is a temple complex. The shrine is on the top of the Purnagiri hills. Tara and Tarini are the twin goddesses who are worshipped here. This is one of the four Adi Shakti Peeths. This temple is situated at a height of 708 feet over sea-level. There are three ways to reach this temple. You can either take a rope-way or climb 999 steps or take the motorable road. The panoramic view that you will get to see is also very striking. The Eastern Ghats, verdant forests, lush paddy fields, and Rushikulya making its swaying movement through the grassland.
Gopalpur
Gopalpur is an expansive sea-beach which has a very prominent mention in history. It served the sea-farers during the ancient Kalinga period. Gopalpur was an important port during World War 1. The soldiers would commence their journey towards Burma from here. Gopalpur also wears the crown as having the first hotel in Odisha. The sea here is rough. The beach is dotted with casurina groves. The rising and the setting of the sun paints a very scenic picture of the place.
Tampara Lake
Though this is an understated lake, yet it is very captivating. This is one of the largest freshwater lakes in Odisha. It is a huge lake. The lake is located in Chatrapur. The distance of this lake from Bhubaneshwar is 148 km and from Berhampur its 30 km. this scenic place is away from the hustle and bustle of city life. You can spend some quality time here with your friends, family or dear ones. The gentle waves and the serene environ will relax your body and mind. This is definitely a very nice tourist spot.