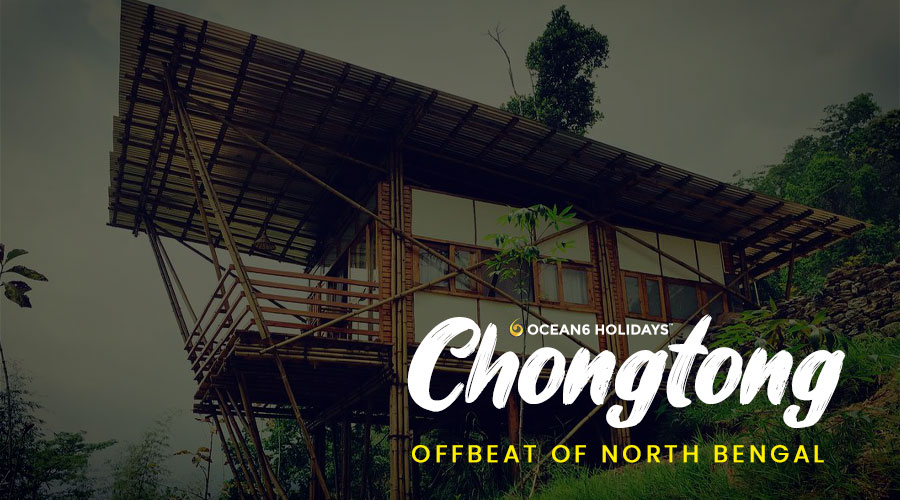 Life in a metro is so fast-paced that we hardly get any time to breathe. Though it's exciting and prospective but a life in a rural village radiates a different vibe altogether. If you want to unplug from all mechanical things and electronic gadgets of the city life and want to connect with nature then pack your bags and visit this nearly untraded hamlet in Darjeeling. If your nerves need to cool down and your mind needs to relax, Chongtong Bamboo Resort is the best place to cool off your nerves. The snug hamlets scattered over our favourite Darjeeling are some of the beautiful sights to behold.
What's life in Chongtong? If you spend some days in the Chongtong Bamboo Resort you will not only connect with nature but also with yourself. Because our hectic lives don't allow us to dig deep into ourselves. The concept of this Bamboo Resort is inspired by Japanese aesthetics. This is the first such lodging based on eco-friendly substances in that area and also utilizes an on-site solid waste management system. Everywhere you go, every smile you see, you will know that you are in a very hospitable place and your presence makes the local people happy. Whichever way you look, the stunning Himalayans and their picture-perfect surroundings are standing with its head held high just for you; to make you feel the essence of belongingness and attachment with nature. And suddenly you will feel light, you will feel a sense of inner joy because Chongtong Bamboo Resort is a place where they magically take away your worries and fills you up with natural positivity.
This little-known place is just a 90 kilometers drive from Darjeeling. This prized property not only has picturesque views everywhere you look but also the sounds of nature will enchant you like the twigs crumbling under your feet as you walk, the leaves swaying in the breeze, the birds singing, etc. This is the raw experience of Darjeeling countryside. Imagine seeing and listening to all these from well-designed tents and Bamboo Huts. It could not have got any better. The double-bed Bamboo Unit gives you the perfect view of the glorious surroundings. It has a large balcony where you can have your private meal. The room has an attached bathroom and hot water shower, electrical kettle, mini-fridge, and ceiling fan. There are two luxurious tents. One with an attached bathroom and hot water shower, electrical kettle, and standing fan. It is a tea-garden-facing room along with the green forests all around. From this tent, you can see the river meandering through mountains and rich agricultural scenery. The other tent has twin beds that overlook the forest plantation. It also comes with a unique feature – an outdoor bamboo shower! This room also has an attached bathroom and hot water shower, electrical kettle, and standing fan.
This is a pet-friendly resort. Chongtong Bamboo Resort has 10 acres of land. You can go around the entire farm. And know what? You can also cook your food in their kitchen. They believe in sustainable living and maintain a very well-balanced harmony with nature and the guests. They use their own farm produce fresh veggies and spices. You can also enjoy river-side camping, hiking, tea-tasting, trekking, bird-watching, mountain biking, and nature walks.
Best time to visit Chongtong Bamboo Resort
You should visit Chongtong during the summers. This time the temperature fluctuates between 8 degrees and 20 degrees. Chongtong looks best during the summer months. The winters are very cold and the temperature can go below the freezing point. But if the sun comes out and gives a broad shiny smile, the mountains look even better than real gold.
Nearby Attractions of Chongtong Bamboo Resort
War Memorial – Many people from Darjeeling served in the war. To honour those who have died fighting for our country, Manish Gupta, then Deputy Commissioner of Darjeeling in 1976 took the lead in building the War Memorial in the middle of Batasia Loop. You will get a fantastic view of the hilltops and city from the surroundings.
Gangamaya Park and Rock Garden – There is a beautifully manufactured rock garden at the frontage of a pretty waterfall. There is also a sitting area at the foot of the waterfall. Nice place to spend some time.
Monasteries – There are two monasteries close to the post-office area and Ghoom Railway Station those are Samten Choeling Monastery and Yi Gha Choling Gompa. The monasteries provide an in-depth understanding of the deep-rooted culture, heritage, and history of the place.
Tumsong Tea Garden – The beautifully managed 144 hectares lush green of tea-estate is absolutely stunning. Many birds are found here. This 'chai-bari' located in the lap of nature provides spectacular surroundings and fabulous accommodations.
Darjeeling City Tour – This city tour covers 7 marvelous tourist spots. You should undertake this Darjeeling City Tour to get to see some of the best attractions of Darjeeling.
Tiger Hill – The famous Tiger Hill is perched at a height of 1100 feet above sea-level. The sunrise from Tiger Hill is an occurrence not to be missed. The grandeur of the Kanchenjunga peak seen from Tiger Hill is an experience all should have.
Experience Chongtong Bamboo Resort
Trekking and Hiking – Go hiking and trekking in the nearby areas, along the rivers, in the forests, or the village. Trekking and hiking specialists can take the actual trekking routes. But if you are not an expert hiker or trekker, just go long walks till your body can permit. It will be lovely to see the surroundings. There might be so many things you will get to find, you might also get to see some new things. So put on your sneakers and go find a world of its own.
Tea-Tasting – This is a new activity that is becoming very popular. With prior arrangement, guests can take part in tea-tasting in the local tea-estates. Along with this, a lesson on plucking, pruning, collecting, and processing the World Renowned Darjeeling Tea is also done.
Wildlife and Bird-Watching – The surrounding forest area has a large number of rare bird species such as owls, several thrushes, babblers, sunbirds, pheasants, shrikes, etc. Bird and wildlife lovers will have a great time here. Also, you record their melodious songs and take photos of these beautiful winged-creatures. Be very alert as you can get a chance to see the popular red panda.
Riverside Camping – Enjoy an unbelievable riverside camping in the lap of nature, under a star-studded night and slow movements and sonorous sounds of the waves of the river. You will have a memorable time as the nature wraps you up in its arms.
How to reach Chongtong Bamboo Resort
By Road – It can be reached by car. The approximate distance to reach the place is 640 kilometers. It will take around 17 hours to reach the place. You can take NH19 or NH12.
By Rail – The closest railway station is New Jalpaiguri. It will take about 3 hours and 30 minutes to cover a distance of 84 kilometers to reach your destination.
By Air – You have to take a flight to Bagdogra Airport as it is the nearest airport. You have to travel 91 kilometers and it will take nearly 4 hours to reach your place.
If you are looking to relax in a relatively unknown place away from the dirt and grime of the city, then you should visit Chongtong Bamboo Resort. Every nook and corner of this destination is infused with eternal beauty. On your next vacation choose this immensely beautiful and earthy place that will win your heart with its charm and simplicity.