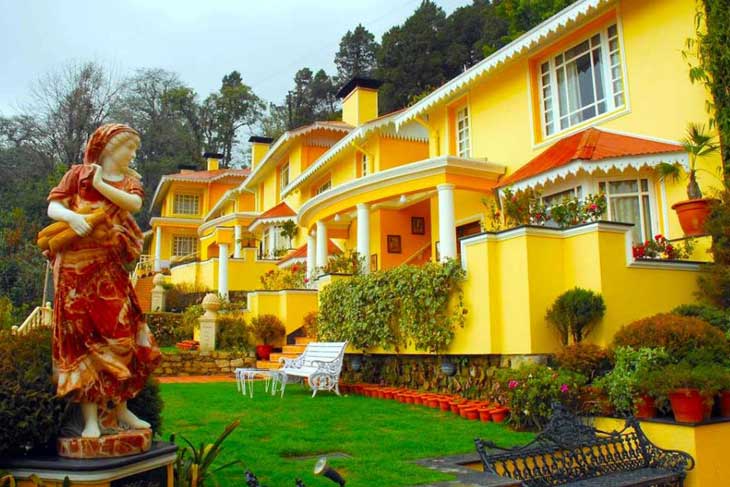 Experience Mayfair Darjeeling
The rising sun gives courage and the setting sun relaxes the mind, heart, and soul. Look out at the horizons from your room's balcony and welcome the new day that has risen. Hotel Mayfair Darjeeling has a strong legacy to fall back on. This heritage property was originally the summer house of Maharaja of Nazergunj. This luxury hill front resort situated on a beautiful landscape with glistening Mighty Kanchenjunga emits a vintage charisma and sophistication. Mayfair Hotel Darjeeling is a century-old hotel that rests peacefully in the cozy lap of Mother Nature. Every day the Himalayan range will greet you with full glory. The scenic beauty of the surrounding can easily take your breath away. The harmonious ambiance is ideal for business guests, families, couples, etc. The property has lots of plants and you are actually staying amid the greenery. The tag line of Mayfair Hotels and Resorts- "Stay with Us, Stay with Nature" holds absolutely true in all vigour.
Once you enter the Hotel Mayfair Darjeeling hotel, there is a pretty reception welcoming you with arms wide open, not literally though but with nice 'Namaste' and a sweet smile. There is also a lounge area with beautiful couches. This hotel also has a small play lounge for kids. The Library in Mayfair Hotel is called the 'Tenzing Room'. It's a very beautiful set up with rare photographs of Tenzing Norgay adorning the walls. On a chilly day visualise curling up on one of the grand sofas, reading a book with a brimming hot cup of Darjeeling Tea on the table in front. The colour combination of the rooms soothes your senses. They have played with subtle pastel shades with a small dash of yellow to infuse regal charm to its vintage architecture. Mayfair Darjeeling has 44 guestrooms and 4 wings in total. The entire hotel has many lovely sit out areas where you can enjoy a flavourful hot cup of Tea/Coffee, absorb the beauty of the hills, read a book, click amazing pictures, chat along or just simply immerse in your own self. The caring staffs are always there to ensure you have a flawless stay at Mayfair Darjeeling hotel with their excellent service.
Rooms
The Deluxe Room of Mayfair Darjeeling is spacious, has a sitting area, a desk, a large comfy bed with attached bathroom. The bathroom has a tub, a shower area, a place to keep your stuff and the usual stuff. There is a closet with a safe in it to keep your valuable items. The traditional fireplace adds antique beauty to this room. And not to forget that this room has a beautiful sit out area.
The Family Room is a special room because it actually has two rooms. Before we tell you what inside, we should mention that it also has a great sit out area with splendid views in front. Like the Deluxe Room, the main room also has a sitting area, a big comfortable bed, a desk, and a beautiful fireplace. You also have an attached bathroom with all the required facilities similar to the Deluxe Room. The second room is relatively smaller but doesn't fall short in providing the facilities. There is a comfortable bed, a closet with safe and an attached bathroom.
The Suite of the Mayfair Darjeeling is a fantastic room which has a lovely sitting area, a fully functional fireplace like the other rooms, a desk and an attached bathroom with a tub, shower area, and the usual facilities. The balcony is the best spot from where you can enjoy the magnificent views, have your breakfast or simply sit idle and relax. The main bedroom has a cozy bed, dressing area, a big closet with a safe and an attached bathroom with a tub, shower area, a place to keep your stuff and the usual stuff.
The Executive Room of Mayfair Darjeeling boasts of a big comfy Twin/King Size bed, a desk, a sitting area, LCD T.V., DVD Player and the majestic fireplace to keep you warm. And also a fully equipped and well-maintained bathrooms like the other ones. Every room has a beautiful sit out and the Executive Room of Mayfair Darjeeling is no exception.
Restaurants
The Mayfair hotel Darjeeling has three food joints-The the cozy Douglas Lounge Bar, the floral Tiffany and the grand Magnolia. Food, Beverage, service, and ambience at all the three joints are unbeatable.
Douglas Lounge Bar has a quaint look with subdued lightings which gives a feeling of calmness.  This Bar serves some finest liquors and tasty appetizers. Take a sip of your favourite drink and revive yourself while you gaze at the spectacular views of the picturesque valleys.
Tiffany offers scrumptious dishes in multi-cuisine styles such as Continental, Indian and Oriental in a more intimate fashion. The in-house specialty-Egg with minced Prawn will blow your mind. The restaurant uses fresh produce and hygiene is very well maintained.  Here they are very cautious about guests who require a special diet due to medical issues.
Magnolia Restaurant serves up a grand fare of Multi cuisine spreads using the fresh ingredients. The expert chefs prepare mouthwatering food with utmost care keeping the nutritional value unbroken. The buffet in this impressive dining hall is laid out immaculately with attentive attendants who are more than happy to help you. The restaurant serves Indian, Oriental and Continental cuisines.
Facilities
Indulge yourself in the luxury of what the hotel has to offer. There's a refined spa with a Sauna and a steam bath and fully equipped fitness center to pamper and keep yourself fit. There is also a game room with a pool table with a couple of board games. The Himalayan Bird banquet hall can accommodate upto 80 guests for business events or any other events with all required amenities and a support staff dedicated for the banquet hall only.
Location
Mayfair Hotel Darjeeling is strategically situated at a primary position which is opposite the Governor's House and very near to the Mall.