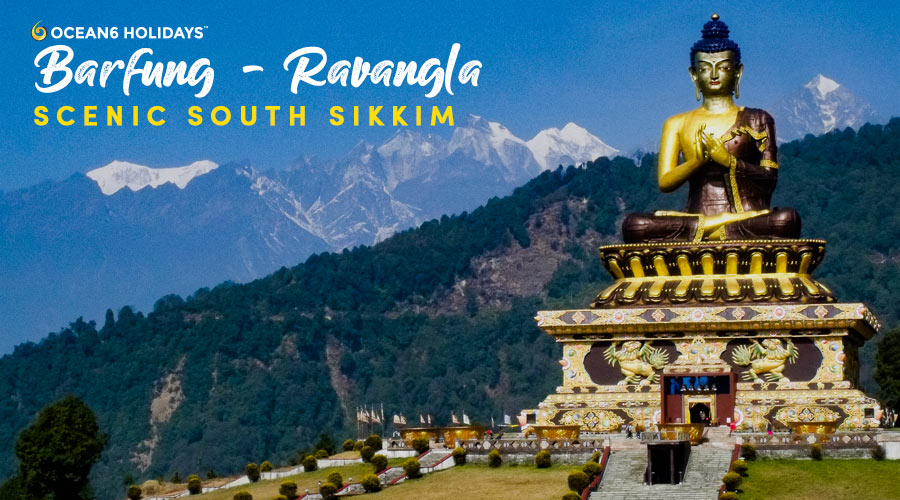 Ravangla is a scenic hamlet snuggled between Gangtok and Pelling. This beautiful tourist place has an altitude of 7000 feet. It is one of the best weekend destinations in Sikkim.  This picturesque town is peppered with sprawling Tea gardens, majestic mountains, stellar views of the Himalayas, monasteries, etc. Ravangla, in South Sikkim, is the best offbeat location in Sikkim for the perfect weekend trip from Kolkata. Seated between Tedong Hill and Maenam, Ravangla is also popular for trekking. So, if you are looking to escape from the ruckus of city life into the mesmerising Sikkim, this is the best Ravangla – Barfung tour guide for you. 
This up-and-coming weekend tourist destination will help you to unplug and connect with nature. Ravangla, also called Rawangla provides unmatched views of the greater Himalayas. Peaks such as Kabru, Pandim, Siniolchu are visible from this offbeat destination. Tourists flock to Sikkim every year and Ravangla's beauty cannot be hard to notice. So this weekend book your tickets and head straight to this scenic offbeat location in Sikkim for its striking natural beauties, amazing monasteries, intriguing caves, ever-welcoming homestays, and many more experiences that money can't buy. If you want to become one with nature, travelling to this offbeat location in Sikkim will fulfil your purpose.
Best weekend destination in Sikkim
You will experience Sikkim like never before in Barfung. It is a simple place near Ravangla that will take you by surprise during your weekend trip from Kolkata. The charming village of Barfung will provide an earthy feeling and you will be overwhelmed by the stupendous nature surrounding the place. Situated at the hillock of the Herculean Himalayas, Barfung is one of the best offbeat destinations in Sikkim. Ravangla and Barfung are slowly gaining popularity as one of the best weekend destinations from Kolkata. 
Best Homestays in Sikkim
Barfung has the best homestays in Sikkim. The homestays have all the modern amenities required during your weekend trip from Kolkata. Homestays are the best choice for travellers treading the unknown path. The hospitality of the homestays are unmatched and the services are impeccable. The best homestays in Sikkim offers a bouquet of services like taxi service, Wi-Fi, round-the-clock security, housekeeping, etc. The homestays have different categories of rooms that will cater to one and all in this beautiful weekend destination in Sikkim. Maaz Bari Homestay, Hotel Himalayan, Hilltop Rabong Resort to name a few hotels and homestays in Sikkim.
Sightseeings in offbeat Sikkim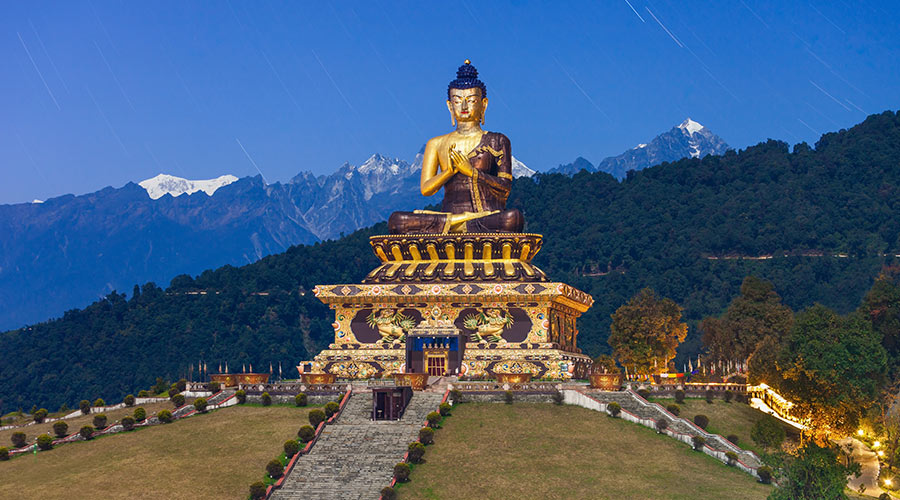 Ravangla Buddha Park – The Buddha Park monastery is one of the prominent monasteries in Sikkim. It lies around 1 kilometer from Ravangla. It features a 40-meter high statue of the Sakyamuni Buddha. Consecrated by the Dalai Lama in 2013, the statue marks the 2,550th birth anniversary of Gautama Buddha. The statue was constructed by applying an age-old process that is known as the repoussé technique that is an ancient metal-working practice in the world. The stunning statue was built using 4kgs of gold and 60 tonnes of copper. The statue is the centrepiece among well-manicured gardens in the backdrop of gigantic Himalayan peaks. This park has become a prime destination during every weekend trip in Sikkim. The park complex also has a lake called Cho Djo that is an added attraction to that place. There are food stalls serving Wai-Wai, Maggi, Alu Dam-Roti, Momos, etc.
Ravangla to Pelling tour guide
Pelling is another offbeat attraction near Ravangla that takes only 2 hours to reach. Pelling is a top-rated tourist destination in Sikkim after Gangtok. It lies around 130 kilometers from Gangtok. The ethereal beauties of Khangchendzonga and other nearby peaks are the sights to behold in Pelling. Pelling rests at an elevation of 6800feet above sea level. Presently, Pelling is a crowned jewel on the map of Sikkim. This beautiful place invites one and all and suits every pocket. It can be visited during every season.
Pelling is a quaint town but its beauty sparks from every angle and hence, it is a very popular weekend destination from Kolkata and other nearby cities. You can immerse in Pelling's bountiful nature. Every traveller visiting Pelling will never be disappointed. Pelling offers a palate of stunning monasteries, indescribable natural beauty, adventure sports, religious sanctuary, etc. It is ensconced by mighty snowy mountains, glittering lakes, and gurgling waterfalls. The aura of this serene location in West Sikkim will be a memorable trip in your life. Contact us for the planning best Ravangla, Barfung, Namchi tours. 
Temi Tea Garden
Temi Tea Garden in Southern Sikkim is a very popular hill station. The lavish green slopes of tea plants look outstanding. You will also get picturesque views of the neighbouring offbeat locations in Sikkim from the tea garden. This is an unmissable location during your weekend trip from Kolkata. Staying at the Temi Tea garden guesthouse is a fabulous experience.
If fortune favours you, the magnificent view of Kanchenjunga on a clear sunny day will be a Midas touch to your already beautiful odyssey. The guest house is excellently maintained and the staff is very polite. They are always ready to serve and assist you. You can take a tour of the factory and understand the processes involved in tea making. You can also buy tea from there. The scintillating charm of the Temi Tea Guesthouse and plantation area will be etched in your memories forever. Book your Sikkim tour package with Ocean6 Holidays and get the best deals on the best homestays in Sikkim.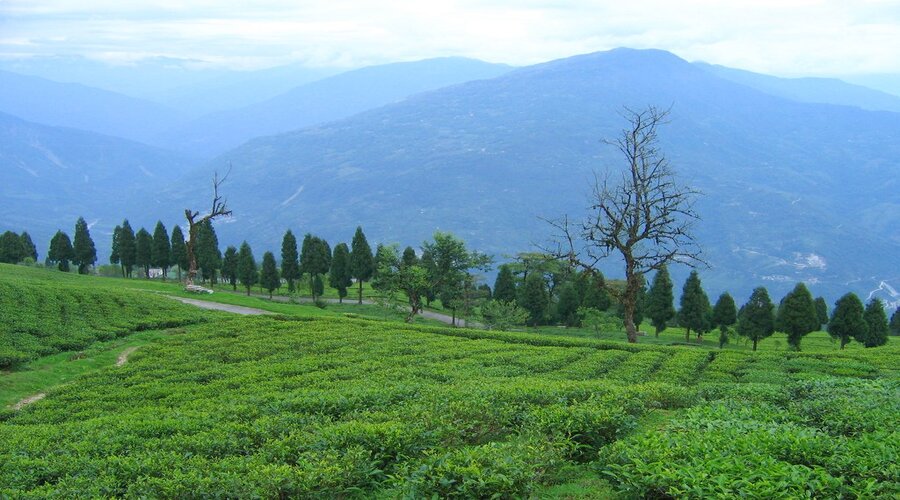 Ravangla to Namchi tour guide – offbeat destinations in Sikkim
A 45 minutes drive from Ravangla will take you to Namchi. Translating from the local language the name of this extraordinary town is 'Sky High'. The altitude of Namchi is around 5500 feet above sea level. It lies at a distance of 78 kilometers from the capital city of Sikkim-Gangtok. This beautiful place is tucked away between Jorethang and Melli. Namchi is a very well accessible offbeat location in Sikkim. There are regular bus services from Siliguri, Gangtok, Kalimpong, Pelling, and Jorethang.
Namchi offers striking vistas of the Ranjit valley and of course the Khangchendzonga range. Words fail to describe the stupendous beauty of this popular weekend destination from Kolkata. This gorgeous place has breathtaking monasteries, temples, and other recreational spots. One prominent tourist attraction is the Namchi Ropeway. The hanging glass cabins provide spectacular scenes from high above the air. This must-visit offbeat location in Sikkim is mostly visited from March to May. The panoramic views of Namchi are truly exceptional.
Snowfall in Ravangla
If you yearn to see snowfall, then you should visit these best offbeat locations in winter. The winter months start from October and go on till month-end. You will experience continuous snowfall during this time and the temperature can dip to sub-zero also. This experience will be like the cherry on the cake during your weekend getaway to offbeat Sikkim.