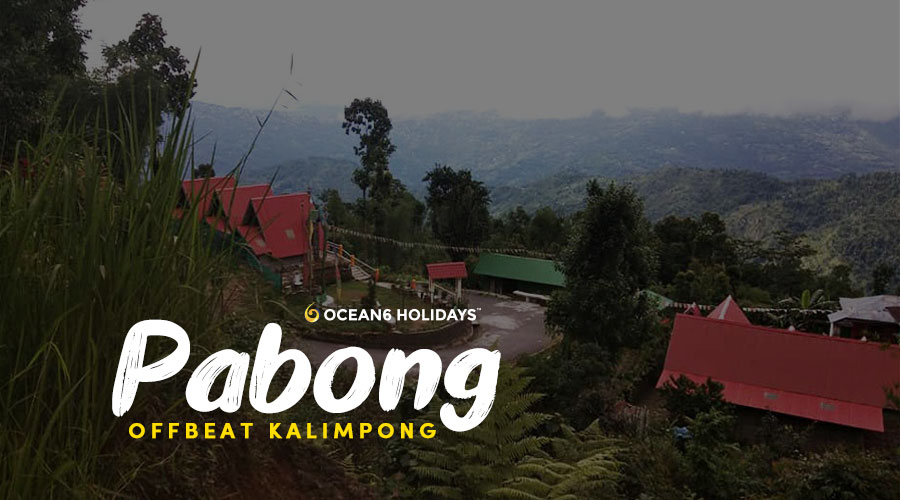 Pabong is the panache when your heart desires for a rustic life. The rural countryside of Pabong is a scenic hamlet in the eco-tourism sector. Pabong is an attractive settlement perched atop a mountain slope, hardly 34kms from Kalimpong Town. Peaceful Pabong is surrounded by the Neora Valley, Debdaru, Oak, Pine and small Orange orchard and the never-ending picturesque landscapes of the surroundings. It's a bird watcher's paradise. Pabong also offers majestic vistas of Mt.Kanchenjunga. The hospitality of the people in this area is heart-warming. The charming village of Pabong exudes tranquility and solitude. Walk along the trails of Neora Valley or the paddy fields and soak in the endless alluring environ of Pabong.
Pabong Sightseeing
Pabong is a picture-perfect postcard location. This attractive little village is adorned with grain-fields, dense forests and numerous trees. Charkhole is hardly 4kms from Pabong. The other attractive destinations nearby include Lava and Loleygaon, Kolakham, Rishyap, etc.
Charkhole
Charkhole is a beautiful pleasing destination which is very close to Pabong. The little hamlet of Charkhole gives expansive views of Mt.Kanchenjunga. Here in Charkhole, you can trek to a spectacular sunrise point called Gamphus Dara. The oldest Buddhist Monastery in Kalimpong is in Charkhole. Explore Charkhole inside-out on your feet and acquire the raw beauty of this extraordinary place and the natural ambiance.
Loleygaon
Lava and Loleygaon are in close proximity to each other. Loleygaon is a quiet and calm Lepcha village with very tall trees. The verdant forest of cypress and dhupi surrounds Loleygaon. This tourist hotspot provides a broad view of Mt.Kanchenjunga. Colourful orchids, winged friends and flowers are in abundance in Loleygaon. The famous canopy walk or the hanging bridge is near to Loleygaon. The bridge has made its way to the thick forests and while you walk it will wobble. This experience should not be missed at all.
Lava
Lava is nature's gift to us. This beautiful hamlet is encircled with pine forests. Lava is bestowed with a wealth of flora and fauna. There is a quaint Bhutanese Monastery in Lava. This famous tourist destination offers trekking, bird watching apart from the imposing scenic views. Lava captures the essential quality of a serene weekend retreat for all the tired souls.
Kolakham
Kolakham is a remote community in the edges of Neora Valley. Kolakham is encompassed by lush greeneries and pine trees all around. This offbeat destination is rich in natural beauty and often awe-inspiring in its scenery. Kolakham becomes a Heavenly abode with the blooming of the colourful flowers. It's set against the backdrop of Eastern Himalayan Range and proud Kanchenjunga, Kolakham provides an ideal haven for different types of travelers.
Kaffergaon
A rugged downhill road with lots of twists and turns from Loleygaon will lead you to Kaffergaon. This dreamy destination is as charming as ever. Beautiful lush green forests and thick jungle of a wide range of plants embrace this picturesque destination of Kaffergaon. Kaffergaon offers expansive and unhindered views of Kanchenjunga. The flora and fauna are in abundance in this peaceful village. You will be amazed by the dazzling sunrise from Kaffergaon.
Rishyap
Looking for a romantic hideout for a couple of days? Rishyap is the perfect destination you are looking for. Rishyap is hardly 4kms upward from Lava. Take a walk along this balmy little village of Rishayp and explore the bountiful beauty that Mother Nature has to offer. Rishyap is a combination of shinning mountain ranges, the cold and crisp breeze that the mountains send across, the picturesque sunset of unimaginable depth and the milky twilights.
Kalimpong
Kalimpong is a quiet place 50 km from Darjeeling. It is near the River Teesta and it has Sikkim as its adjoining state. Beautiful Monasteries, Delo Hill, Dr.Graham's House, Orchid Garden, Morgan House, and a vast Golf Course are some of the heritage and stunning sightseeings of Kalimpong. These offbeat destinations are beautiful weekend retreats. Each place has its own idiosyncratic flavour.
Pabong Activities
If the cacophony of the city life is banging on your eardrums, then run away to Pabong to get the best Kanchenjunga view. This nearly deserted village is an ideal weekend retreat and is appropriate for nature enthusiasts as they can go for hiking, do bird watching, etc. You will get the best Kanchenjunga view in this tranquil village. This majestic mountain will always give you a company in Pabong. The hills and forests come alive with the sweet chirping of the numerous birds. Trekking, bird watching, village walks are a few of the enjoyable things you can do here. The cold evenings can be spend hurdled around a campfire and gazing at the best Kanchenjunga view that you will get. You can also get your hands dirty at organic farming. Live the rural life and indulge in organic farming at least once. Milking a cow or ploughing a field for a change will de-stress you and you will derive a lot of happiness from it also. Organic farming, bird watching, interacting with the locals will bring you closer to Mother Nature. Since there are very few Homestays in the Pabong, as a result, the place is shrouded in peace and tranquility all around.
Pabong Homestay
Pabong Homestay is the perfect place to rest and unwind especially if you want to get away from the dirt and grime of the city life. Experience the real rustic village life in a Pabong Homestay. There is a wonderful homestay in Pabong surrounded by cultivations of Pears, Cardamom and other fruits and vegetables. The comfortable rooms of the Pabong Homestay are well-appointed with all the basic necessities such as attached western-style bathrooms, geyser, electricity, and the best part is the unobstructed vision of Mt.Kanchenjunga, but there is no Television. Pabong Homestay offers hygienic and fresh food.
How to reach Pabong
NJP and New Mall Junction are the closest railway stations from Pabong. Both these railway stations have very well connectivity with Kolkata and other main cities of India. However, Pabong Homestay provides pick-up from Kalimpong and few other places. This service by the Pabong Homestay has really decreased the tension. You can also book cabs from NJP and New Mall Junction. Pabong is at a distance of 35kms from Kalimpong, so it's easily accessible from Kalimpong.
Best time to visit Pabong
Pabong can be visited all year around. If you want to spot the rare and beautiful birds in Pabong and Neora valley, then the spring and winter seasons i.e. the months between November and March are most preferable. The Neora Valley which guards this scenic hamlet offers the best mountain vistas from October to December. The monsoons give Pabong a rich green hue. It has different looks in different seasons and its best enjoyed from the comfortable corners of your Homestay.