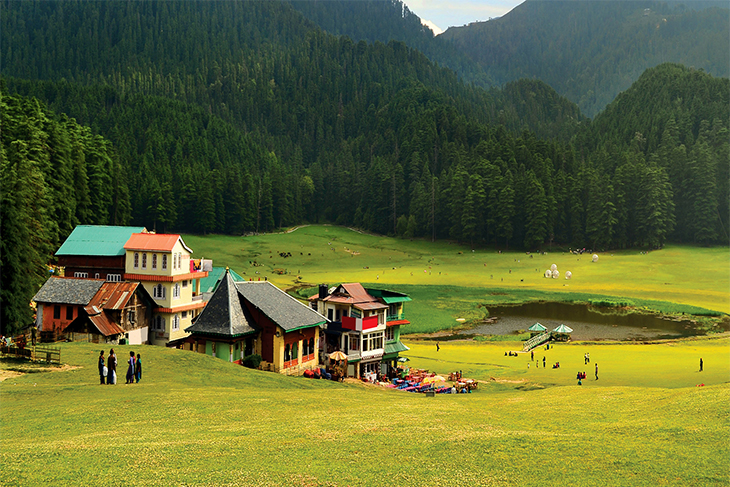 Planning for a trip in the Heavenly Himachal Pradesh? What are the places are you going to? Shimla, Kulu, Manali? Or maybe Dharamshala and Dalhousie? So you are not going to Khajjiar? Are you hearing it for the first time? You might have heard it but not very sure of it? Well then, after you finish reading this, either you will be calling your tour operator to squeeze in Khajjiar, somehow or will be feeling hopeless that you have not heard it before. Because you might well be in the brink of missing an experience of a lifetime. The less visited Khajjiar is surely among the top 5 places to visit during summer or winter in Himachal Pradesh. The verdant pastures of Khajjiar are saucer-shaped and the sublime and enticing image of this place is bewildering. There is nothing more satisfying than going to a beautiful place and enjoying yourselves.
Where is Khajjiar in Himachal Pradesh? Where is it located?
Khajjiar is a small village which is roughly 24km from Dalhousie. Khajjiar is encircled by snow-crowned mountains on all sides. This hidden beauty in gorgeous Himachal Pradesh is one of the best off-beat destinations in the state. Khajjiar is a dreamy destination that has a combination of magnificent peaks, lucent meadows, and verdant emerald forests. This mysterious beauty sits at an elevation of 6,500 feet above sea-level. This minuscule village spreads over luscious fields, meandering soft rivers, and stunning Deodar trees. The extravagant beauty of Khajjiar captures the main qualities of the region's topography which includes the massive Western Himalayas Alps, brook fed lake, all terminating in the foothills of Dhauladhar range. The small plateau of Khajjiar has an equally small lake right in the middle of it. Khajjiar has two floating islands in the centre of the lake which at times stays concealed by the lofty grass that develops on them.
This place is a unique blend of the ecosystem. Every piece of natural wonder in scenic Khajjiar takes pride in its self. They are the show-piece, the adornments of this magnificent spectacle that attracts visitors and leave them totally awe-struck. This luxuriant green meadow in the Chamba Valley provides a calm and serene environment in its every nook and corner. This calm and quiet destination beckons families, honeymoon couples, adventure junkies, photographers, peace finders and everybody else. Khajjiar has a mountainous terrain and even the areas which are not, i.e. the rolling meadows, Khajjiar Lake, the pastoral landscapes are viewed for hours at a stretch. "Do not follow where the path may lead. Go instead where there is no path and leave a trail." This quote by Ralph Waldo Emerson best applies here.
Why Khajjiar is called 'Mini Switzerland of India'?
This invigorating place is as scenic as Switzerland itself. Such is the uncanny resemblance that Mr. Willy. T. Blazer, the then Head of Chancery of Switzerland in India acknowledged it as 'Mini Switzerland of India' in the year 1992. He was instrumental in constructing a Swiss-type yellow footpath signboard. He also took back a stone as memorabilia to be kept at the Swiss Parliament. On a clear sunny day, your eyes will automatically look upwards to Mount Kailash, the serrated skyline which is at times dark with forest to the crests of its notched ridges and at other times, glittering in the snow. Khajjiar is appropriately called the 'Mini Switzerland of India.' The key component which establishes it as 'Mini Switzerland of India' is no doubt the Himalayan Alps which is Khajjiar's predominating feature. Just like the Swiss Alps, it has reached perfection in its grandeur. True to its nickname, the uprising forested spurs rise up to form the perfect match with the spectacular Himalayan Alps. The roaring clouds, whispering forests, picturesque lake are a pastoral utopia.
Khajjiar Lake
The impressive green pasture of Khajjiar has a little patch of a water-body right at the middle. This is the famous Khajjiar Lake. Bunches of herbs and grasses grow on this lake giving an impression of floating islands. The floating islands are the main draw of this Khajjiar Lake. This place is perfect to rejuvenate your mind and soul. The striking vista of Mount Kailash can be seen from here.
Khajjiar in Summer
The alpine summers of Khajjiar which lasts from March to June is the ideal time to visit this charming hamlet in Himachal. The temperature is quite pleasant during the summers and stays somewhere between 17 degrees to 30 degrees.
Khajjiar in Winter
Khajjiar is wreathed in snow during the Winter Months. Though it can be little tough travellers still throng to this place in the chilly winter months to enjoy its pristine beauty. It's definitely a sight to behold during the winters. Your craving for snow will come true here.
Khajjiar in Monsoon
There is no harm in experiencing the rains in Khajjiar. The monsoon season in Khajjiar is between July to September. The beauty of 'Mini Switzerland' drenched in rain is a truly spectacular sight to remember for the rest of your life.
Activities or the best things to do in Khajjiar
There are a host of activities you can do in Khajjiar. Indulge in Paragliding, Horse-riding, and Zorbing. The land of Khajjiar is conducive for trekking and hiking and hence it's a paradise for the adventure aficionados. Khajjiar is the perfect place to turn into a wanderer. You can also undertake long walks or simply stroll around and get mesmerized by its ethereal beauty.
6 Must-See Places in Khajjiar
Kalatop Wildlife Sanctuary
Wildlife lovers can thoroughly enjoy the exotic flora and fauna of Kaliope Wildlife Sanctuary. Lots of animals such as the Himalayan black marten, deers, langurs, bears, leopards, etc. can be spotted here. One can also locate a diverse variety of birds here.
Chamba
This is one of the major places to visit from Khajjiar. The 'charismatic' Chamba on the banks of the River Ravi is a very beautiful place. The looming Himalayas, dense forests, and the comfortable weather make this a prime tourist attraction. The quaint town of Chamba is also peppered with citadels and temples from the bygone era.
Khajji Nag Temple
This temple is quite close to Khajjiar Lake. This archaic temple was built in the 12th century AD. The Khajji Nag Temple has a golden spire and a dome for which it's also called the Golden Devi temple. This temple is dedicated to Naga, the lord of serpents and thus has various idols of the snake. Beautiful wooden carvings portraying the scenes from Mahabharata can be found here. The age-old practice of offering a goat is still carried out here.
Panch Pandav Tree
Among the profuse Deodar forests stands a very distinctive tree called the Panch Pandav Tree. It has 6 shoots which are said to suggest Draupadi and the five Pandavas. This Panch Pandav Tree is in close vicinity of a guest house. This is also a very scenic picnic spot.
Dainkund Peak
Dainkund Peak is the highest place in Dalhousie at an elevation of 2756 meters over the sea-level. This astounding view-point boosts the beauty of Dalhousie. The full circle view enclosing the Pir Panjal Range poses a marvellous sight to behold.
Dalhousie
One of the immaculate locations in Himachal Pradesh is Dalhousie. It was established by the British Viceroy Dalhousie after whom the place was named. is one of the top 10 cold places to visit in India in April. This tiny piece of paradise exudes old world charm. This picturesque town is adorned with stellar mountains, softly flowing rivers, green meadows sprinkled with flowers and pretty pine trees. Dalhousie is peppered with Victorian and Scottish styled buildings. Dalhousie is located away from the dirt and grime of the city.
Which films shooting were in Khajjiar?
The iconic film Kuch Kuch Hota Hain had shot its summer camp portions in this graceful locale. Also, another film called 'The Blue Umbrella' was shot here. The scene where the child meets a Japanese tourist and is gifted an umbrella was shot here. There are a bunch of other movies which had scenes shot in Khajjiar. The list includes Lootera, 1942-A Love Story, Wajood, Himalaya Putra, etc. It can be safely said that Bollywood discovered this gem of a place before the travellers did. The best way to re-create a Bolly song sequence is to carry a Chiffon Saree and pose with your darling using the trees as props.
Top 4 best hotels to stay in Khajjiar
Khajjiar has several accommodations catering to all. Budgeted travellers and others who want the authentic feel of the place can opt for homestays whereas if you are looking for posh places, you can choose from the high-end hotels.
Devdar
This Government run deluxe hotel is located at a scenic location surrounded by Dhauldhar peaks, towering deodars, and emerald grasslands.
Shining Star Resort
This hotel lies at a distance of 0.6km from Khajjiar Lake.
Cozy Swiss Meadows
The hotel is situated 1km from Khajjiar Lake and 0.2km from the main market. You will be served here Asian breakfast and there is a 24-hour front desk.
How to Reach Khajjiar
Kangra happens to be the nearest airport (approximately 125km). Pathankot is the closest railway station which is at a distance of 105 km. There are direct buses which ply from Delhi and Chandigarh. The respective distances are 595km and 360km. This place is very well accessible from other towns of Himachal Pradesh such as Shimla, Dalhousie, Dharamshala, etc. There are frequent bus services from these places to Khajjiar.