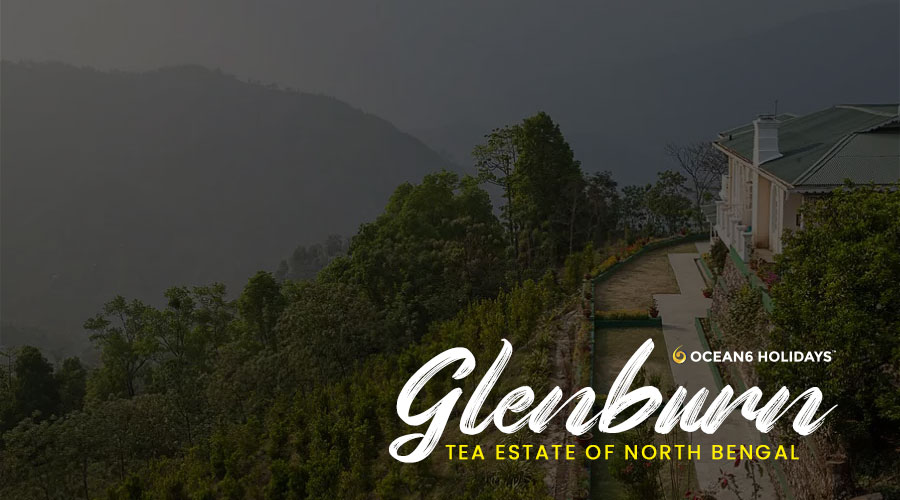 Glenburn Tea Estate – An attic in the Heaven
Perched atop a hillock overlooking River Rungeet, the 1,600 acres of sprawling tea estate is a jewel in Darjeeling's tea tourism map. It was started in 1859 by a Scottish tea company but was later passed onto India's pioneering 'Chaiwala family'- The Prakashes. They have since nurtured the property taking its hospitality to new heights. Today, Glenburn Tea Estate is a sought-after tea destination in India attracting tourists from all corners of the world.
The scenic beauty of Glenburn:
Glenburn Tea Estate is like a piece of heaven on earth. The mighty Kanchenjunga stands on the horizon. The snow-fed Rungeet and Rung Dung rivers flow some 800 ft down the hillock. There is a forest hemming the river banks and a river-side campsite lodge- all within the estate. Plus, there are two opulent bungalows oozing elegance and old-world charm. All the eight suites in the two bungalows offer stunning views of the Darjeeling Himalayas and tea gardens making the place an ideal retreat for today are discerning travellers.
The Glenburn Experience: The Perfect Blend of Luxe Leisure and Activity
Glenburn Tea Estate is a compelling blend of natural beauty, sophisticated luxury, and an unmissable opportunity to witness tea production right in the lap of Darjeeling tea gardens. The tranquillity and serenity are simply unmatched. But what makes the estate even more coveted is the warm hospitality ensured by its hosts. They not only pamper you throughout your stay but also join you at the meals, accompany you on the nature walks, and share with you their knowledge on tea plantation during specially conducted tea tours.
The tour begins with an in-depth audio-visual presentation on Glenburn's history and ends with a tea tasting session. In the session, you get the opportunity to taste a wide variety of teas ranging from black, green and oolong teas to white tea while discovering the intricate differences in aroma, flavour, and the appearance of various tea leaves.
A vacation at Glenburn Tea Estate often turns out to be a gastronomical delight for travellers because all the meals served here are prepared using their own farm-fresh fruits and vegetable. Therefore, they are safe and full of natural goodness.
Besides, all modern, high-end amenities are available here that make your stay really comfortable and worth remembering.
The Speciality of Glenburn Tea
The experience of savouring a cup of premium Darjeeling tea in Glenburn Tea Estate is surreal, to say the least. The flavour, which is the king, they say, has evolved through years through the cross-breeding of the best of varieties of tea cultivated in the Himalayas. In one of Glenburn official's words, "The strength of the old and the vitality of the young – the future of Glenburn is Colonial Tea!"
Bird Watching and Butterfly Trail in Glenburn
A self-contained tea tourism destination, Glenburn is home to a large variety of trees, wildflowers, birds, butterflies, and honeybees. During your stay here, you can go on nature walks and indulge in bird or butterfly watching. Some of the rare birds found in the estate are Red Jungle fowl, Yellow-Rumped Honeyguide, Eurasian Wigeon, Grey-crested Pygmy Woodpecker and Barbets, etc. The butterfly species adorning the place are Red Breast Basking, Glassy Blue Bottle, Crimson Rose, Red Spot Jezebel, and Paris Peacock, etc.
Other Activities
During your stay at Glenburn, you can also indulge in other activities like:
Hiking
Fishing in Rungeet and Rung Dung river
Day trip to Darjeeling and/or Kurseong
Cookery classes
A relaxing massage or beauty treatment
How to Reach?
Glenburn Tea Estate is about 1 hour 15 minutes' drive away from Darjeeling town and3 hours from Bagdogra Airport, Siliguri. You can either follow the River Teesta route or take the Darjeeling bound road upon reaching the bridge (that connects West Bengal to Sikkim) before driving down to Glenburn. Or, you can drive through Kurseong town and the outskirts of Darjeeling before veering off towards Glenburn.
Chartered helicopter service is also available on request from Bagdogra, New Jalpaiguri Station, Darjeeling, Kalimpong, Gangtok, Pelling, Phuentsholing (Bhutan) and Bhadrapur (Nepal).
Best Time to Visit:
There are very few places on earth where you can visit at any time of the year. Glenburn is one such place in India. It remains accessible and welcoming to its visitors all through the year. Plan your visit as per your tea preference.
Spring (February-March): Tea leaves plucking (First Flush)
Summer – Second Flush
Monsoon – Rain teas
End of November – Autumn Flush
December-January – Tea plant pruning
The scenic beauty and the exclusiveness of Glenburn make every visit worth it, irrespective of the time. Add to it, the special value-additions and hospitality and you get a vacationing experience of a lifetime.