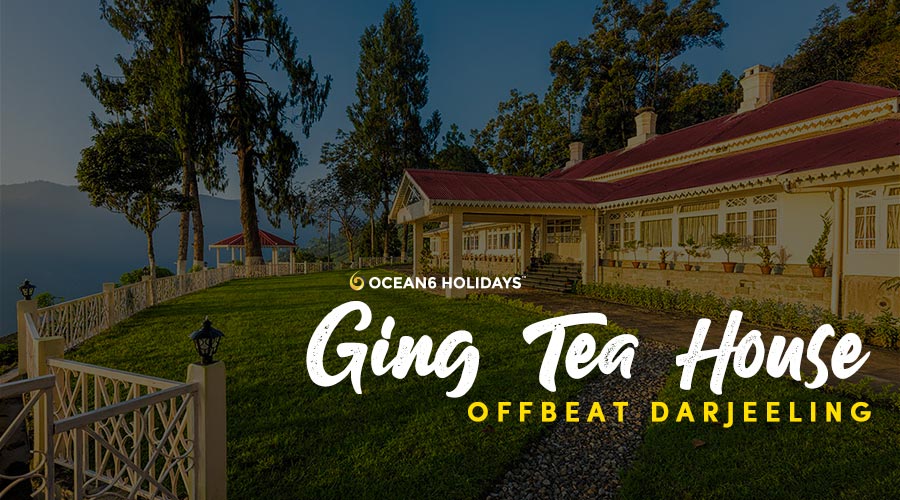 Where serenity echoes through the verdant valleys
Ging Tea House is one of the largest tea-producing estates of Darjeeling and a pioneer in organic tea farming. It has been certified by the Rainforest Alliance for its initiatives to preserve the ecosystem. The estate encloses a Tea House which was built some 150 years ago. The property has been restored keeping its classical style intact so, when you spend your holidays here, you get to experience its colonial heritage. There are 6 private rooms in the Tea House- all impeccably fitted with modern amenities.
A Day at Ging: Tea Experiences and Activities
A day at Ging Tea House starts with witnessing the sunrise at Tiger Hill gazing over the majestic Kanchenjunga. Then you are served a scrumptious breakfast prepared using local, farm-fresh ingredients. After having your breakfast, you can step out to discover the scenic beauty of the forests filled with stunning flora and the fauna and tune of Nepalese folk songs. The women working in the tea gardens of Darjeeling keep humming these tunes cheerfully while plucking the tea leaves in their wicker baskets. Stop to sip a blissful cup of Darjeeling tea or join the Ging's team for a rustic tea picker's lunch. And then, start for a tour of the tea factory to witness the process of tea manufacturing. Finally, feast your senses to the sight and aroma of the day's special brews in the specially organized tea tasting session.
Keep the next few days for other exciting activities. Ging offers you access to experiences such as:
Trekking or hiking along specially curated walking trails
Day trip to Darjeeling and heritage Toy Train ride
Indoor activities- playing carom or chess; trying a hand at the piano; reading a book in the library by the cozy warmth of the fireplace.
How to reach?
Ging Tea House is a half an hour drive from Darjeeling. The nearest airport is Bagdogra in Siliguri. It is well connected to all major metro cities in India. Take a flight to Siliguri and reach Ging by car. It's just a 3-hours' drive from Bagdogra Airport.