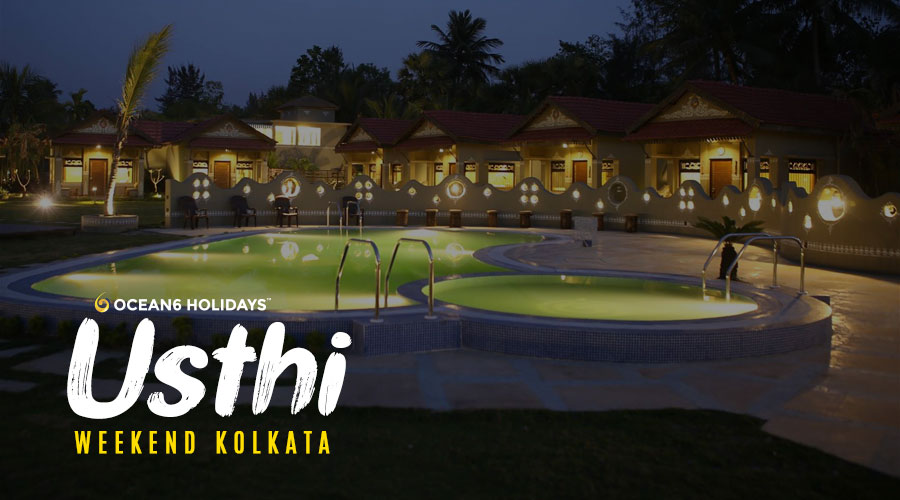 This resort near Usthi in the vicinity of Raichak which is ensconced by farmland and forest. It is a heaven for nature lovers. It lies a few kilometers away from Kolkata and is a must-visit to see a hidden and tucked away wonder. The place is endowed with opulent landscapes. Daydreamers will find this place as exactly out from a fairytale book. Lay down idly on the well-kept grass and dream 'of rain, dream of gardens in the desert sand, dream of love as time runs through your hands'. Watch the clouds glide away to an unknown land. This piece of the magical world is situated just 10 kilometers from Ibiza and is off the Diamond Harbour Road.
Devoid of pollution, the resort in Usthi is bestowed with nature's abundance. Relax your mind and soul in this awe-inspiring environment. If you want an equal amount of fun and splendid nature at every footstep, then there's no other better place than this resort near Raichak in Usthi. If your hectic corporate life burns you out and you are seeking for some solace, make this your next weekend destination. This place near to Kolkata packed with a natural exhibit, stunning landscapes, and lots of activities is your best choice. Every second spend here is filled with happiness and fun. The resort gives you your personal space to be in harmony with nature.
The mud-houses of this beautiful resort in Usthi give a rustic feeling to the otherwise luxurious retreat. The fabulous rooms have artistically done interiors. The 12 rooms have king-size beds, aristocratic furniture, and modish amenities. The nearly 450 square feet rooms have a lounge area, and all of them also have their own sitting areas. The rooms are available on a twin-sharing basis and along with it can easily put up two children below the age of twelve years. The mud houses are gracefully painted with motifs on the walls, hand-refined lamps, and mats made of organic products. Every aspect of the decoration even brings you to close to Mother Earth. This resort also presents to you a meditation and yoga zone, a swimming pool, and very well-preserved garden areas. The canopy of trees and groves surrounding the entire area is perfect for your languid moments.
A stay in the amazing mud houses of this resort is an ideal way to experience a quality vacation. Your taste buds will be taken care of very carefully by an experienced Chef. You can indulge in Continental Breakfast to traditional Bengali Lunch to Chinese Dinner. You will get the option of Ala-carte as well as Buffet. This short weekend stay will surely satisfy the wanderlust in you. This perfect getaway will become your abode of happiness for one or two days that you will stay. The verdant green groves and the natural ponds add to the aesthetics of the place. The 60 seaters indoor banquet and the 300 seaters outdoor banquet are appropriate for your corporate events. Over and above this destination is well-suited for pre-wedding photo-shoots, functions, film shoots and for your wedding itself. The venue can fit in around 1000 guests in their two banquets and three lawns.
All the 'Khatron Ke Khiladis' out there, please note that this resort has a fabulous adventure zone. It has an assortment of amazing adventure sports activities. You can fully enjoy kayaking, paddle boating, zip-lining, rock climbing, zorbing, etc. The great opportunity presented to all the adventure aficionados is unique and thrilling. Whether you are visiting this place for a weekend retreat or a day trip, then experiencing the essence of nature and the thrills of adventure sports will linger with you forever. Come to think of it, you can be a part of this life-time experience so near Kolkata.
Places to See Near the Resort in Usthi
Raichak Fort
The Raichak fort initially built during the colonial years stands with its head held high. This mighty structure is a prominent symbol of imperial power. The fort is considered to be an attractive architectural splendid. The Raichak Fort was restored a few years back. The purpose of this fort was to look over the River Hooghly. The F fort as it is called now is wreathed in historical value and past grandeur.
Falta
Falta is a river town best known for day trips or picnics or weekend retreats. You can visit the Falta Jetty and take a boat ride on the river.
Nurpur
This is a serene place devoid of any commercialisation. Sometimes you can see the big ships coming down to Calcutta Port halting by the village. The place also has a lighthouse which was constructed in the colonial times.
Diamond Harbour
You can drive to Diamond Harbour from Raichak that has a lovely promenade at the riverfront. You can laze around and enjoy a nice and quiet walk while gazing at the horizon. There are some remains from the 16th century fort built by the Portugese.
Gangasagar
Sagar Island, Sagardwip or Gangasagar, an island in the Ganges delta is a place worth visiting. This place is renowned for the Gangasagar Mela that takes place in the months of January and Febryary. The Gangasagar Mela is the second biggest gathering of the Hindus.
Distance By Road
This brilliant resort takes approximately 2 hours from Kolkata and is 15 minutes from Ibiza.