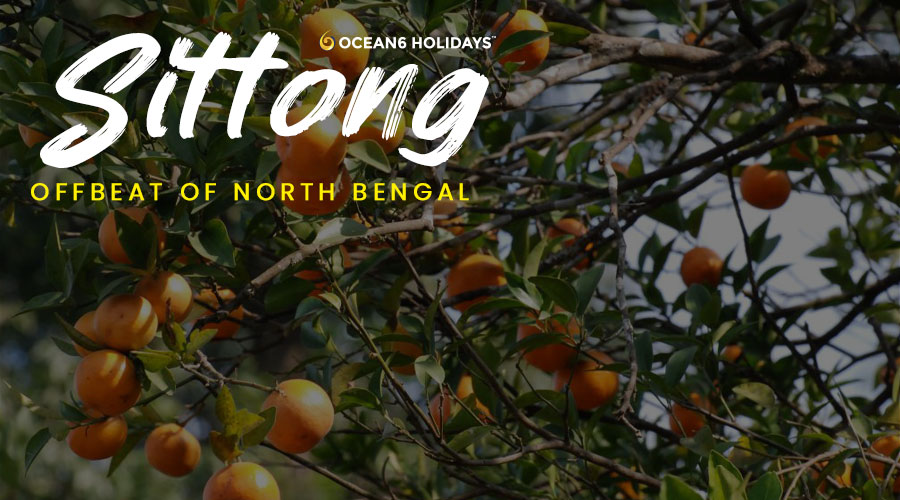 Are you one of those people who love and enjoy doing 'nothing'? Because in the 'doing nothing' phase also, lots of things can be done. Sometimes I also enjoy doing nothing'. I just let my mind do all the work. Sometimes it thinks of shopping, sometimes food and most of the time it thinks of places I visited or desire to visit. Or are you terribly bored and fed up with doing the same things over and again? In that case, the best medicine is taking a short break, a weekend getaway to a place you have never heard of before. Sittong is one such place where one would love and enjoy doing 'nothing'.
Bengal has many beautiful places which many of us are not aware of at all. They are untouched, raw and virgin, still retaining its own charm. These places are ideal for short breaks for one and all, he or she can be a service holder, entrepreneurs, nature lovers, peace finders…anyone.
Sittong has taken its position very delightfully in the laps of hillocks. This unspoiled place is just 55 kms from Siliguri and about 35 kms from Darjeeling. Sittong is surrounded by beautiful lakes and lush greens. Rabindranath Tagore had a house in Mungpoo which is only 20kms away. He visited Sittong and loved it which is a validation in itself. Look out for the Bamboo Bridge and how it wobbles when one crosses it. Listen to the twittering of the birds and the flowing Riyang River. Sit at the banks of the river or simply keep wandering among the greens and yellows and witness the daily life of the locals.
Sittong is famous for its orange cultivation. Every house over there has an orange orchard. In Sittong, the famous phrase "An apple a day keeps the doctor away" should be revised to "An orange a day keeps the doctor away". Indulge your fruity senses with the irresistible oranges. Visit Sittong from November-February and with each inhalation, your nostrils will be filled with the sweet fragrance of oranges and that is why it is also known as the 'Orange Village'. During the orange season, Sittong is painted orangish-yellow by the blooming oranges everywhere and it looks absolutely stunning.
For bird watchers, this is a paradise. Two of the most well-known birding hotspots of the region are Mahananda Wildlife Sanctuary and Latpanchar, which are homes to the Great Indian Hornbills and the rare Rufous-Necked Hornbill. Listen to the beautiful harmony of birds from all around especially the Blue Whistling Thrush and Indian Cuckoo. Latpanchar also has 1,400 acres of cinchona plantations in the area. There are some 36 types of animals and over 240 species of birds that can be spotted here. Feast your eyes on the plethora of birds, the commonly noticeable ones include Yuhina, Scaly Thrush, Woodpeckers, Black Bulbuls, Ashy Backed Shrike, Spotted Eagles, Magpie, Minivets, Minla, Drongo, King Fishers, Robins and if you are fortunate enough you will be able to catch a glimpse of the Himalayan Pied Hornbills. Here the hills are alive with the soulful chirping of these exotic birds.
There is a place called Ahal Dara which is about 5kms from Sittong. It is the most popular viewpoint to get the 360-degree view of the East Himalayan Range including Tiger Hill, Mungpoo Hill, Kurseong Hill, Darjeeling Hill, Chattakpur Hill and other hills with the cascading river Teesta below. Besides, as a backdrop, you can view the enormous Mt. Kanchenjunga. The sunrise is sure to mesmerise one and all.
Told you already, don't do anything, just soak in the atmosphere.
Escape to Sittong, a cluster of hamlets, from the congested Darjeeling and experience the mesmerizing mountains, bird and butterfly watching, blooming oranges, etc. Enjoy a day or two here and return with a bagful of memories to treasure forever.