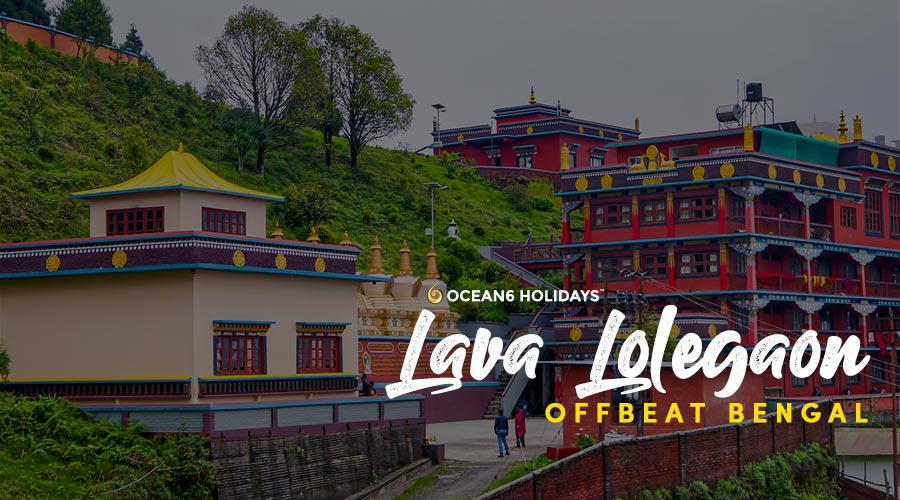 Explore Lava Lolegaon
Lava and Lolegaon are two ethereal destinations in North Bengal and also two very favourite places to travel for the people. Lava is a picturesque hamlet in Kalimpong. Lava moves at a sluggish pace. You can soak in its delight at your own sweet pace. This place is spectacular and always awe-inspiring in its scenery. Lava is so foggy that you will feel you can touch the clouds as they seem to fly low. It will give you a feeling of walking in the clouds. Lava is wreathed in coniferous and pine forests. Loleygaon is about 24 kilometers from Lava. It is another cute little Lepcha village located at a height of 1675 meters. The million-dollar view of Kanchenjunga looms in the surrounding. Lolegaon offers its guests pleasing landscapes, calm and quiet valleys, and verdant greenish forests. These two glorious places have the power to bewitch you.
Best time to visit Lava Lolegaon
Apart from being charming, magnificent, these places are bestowed with natural delights. Both the places have the same type of climate. Since both are hilly stations, coldness prevails all year through. The evenings get more chilling. For Bengalis, the best time to go to Lava Lolegaon would be the summer months that are from March to May. Escape the sweltering heat and head to these wonderful cold hill stations. Also, there are perfect places to visit when you want to get away from your polluted city/cities for some time. Though the places are cold, still there are not many fluctuations in daytime temperature. But if you want to enjoy the winters of Lava Lolegan, then the best time to visit will be from September to June. It is dependent on what you want to see.
Lava Lolegaon in Spring Summer
Travel to Lava Lolegaon if you want to spend some leisure time amongst nature. So what is the picture of Lava Lolegaon in spring-summer? March to June is the summertime in Lava Lolegaon. The temperature varies from 12 degrees to 15 degrees. The maximum temperature will stay more or less between 25 degrees to 30 degrees. The majestic Himalayan range comes to view during these months. The tips of the mountains remain blanketed in snow and look dazzling. The two places bloom with radiant flowers. You will find pristine skies and green spreads of meadows. Both the places will mesmerize you in these times.
Lava Lolelgaon in Monsoon
Monsoon brings rain in West Bengal and also in Lava Lolegaon. They experience heavy downpour and thus the risks of landslides and mudslides rise, many times blocking the road. The road condition also becomes very dangerous and it gets slippery. The rainy season is from July till August. All these can result in road accidents. The temperature at this time hovers around 15 degrees to 30 degrees. It is recommended not to travel to these parts during the monsoon. On the flip side, hoteliers provide huge discounts in this period. You are requested not to be greedy because of the massive discounts, offers, etc.
Lava Lolegaon in Autumn Winter
If you enjoy the chill and can tolerate it then this is the season for you to visit these fabulous places. September to February is the wintry month. The temperature plummets down to 7 degrees and rarely reaches 16 degrees. Lava Lolegaon looks stunning in the white sheet of snow. You can indulge in sightseeing but do not forget to pack woolens more than anything else. Even the snow-crowned Himalayan peaks exude a different kind of beauty. Autumn is not very prominent in West Bengal but Lava Lolegaon experiences autumn mixed with winter for a short span.
Places to see in Lava
Neora Valley National Park –The entry of the National Park is 10 kilometers from the core of Lava. The National Park is home to different avifaunas, flora, and fauna. A remarkable species of Red Pandas are also found here. Bird-watchers and nature aficionados would love this place.
Lava Monastery – Lava can protect and preserve its natural and manmade beauties from the aggression of the tourists. One such beautiful landmark is the Lava Monastery. The monastery is also called Kagyu Thekchen ling Monastery. It was built in 1980 and lodges, 110 monks. The monastery has vibrant colours and looks very pretty against the natural surroundings. The vistas of the mountains from this place look stunning. Serenity precedes this place.
Samthar Plateau – People with an adventurous bent of mind can go trekking to Samthar Plateau. This is the best place to trek. Gompa Dara is the starting point of the trek.
Nature Interpretation Center – This museum lies at a distance of 1 km from Lava Jeep Stand on Rishi Road. People who like to know about wildlife will find this place very interesting and knowledgeable. It is popular for dioramas.
Changey Waterfalls – This extremely popular and beautiful waterfall is about 12 kilometers from Lava. The water thunders down from high up in the mountains and disappears into the verdant green coniferous forests. The otherwise silent place with only the sound of the waterfall reverberates across the area.
Places to see in Lolegaon
Lolegaon Eco-Park – This popular off-beat destination surrounded by cypress forests has a beautiful eco-park to visit. Situated in the middle of the village, this eco-park is surrounded by food stalls and local shops. This is a fine place for nature lovers and others.
Pedong – This stellar place is placed among Lava and Kalimpong. It is approximately 21 kilometers from Lava. The sweeping view of Kanchenjungha ranges and the neighbouring landscapes looks gorgeous from Pedong. The place is named after a 200-year old pine tree that stands steadily in the center of the town. The town has some history attached to it also.
Heritage Forest – The bucolic scene of the Heritage Forest seems like it became alive from a painting. Walking through the tall Oak and Cypress trees with fogs floating around and greenery all around makes the place and the experience surreal.
Tiffin Dara View Point – Your sightseeing is incomplete with viewing the sunrise and the sunset. Around 4 kilometers from Lava and 2 kilometers from Rishop is the astounding sunrise point. It is one of the best viewpoints to batch the first rays of the sun behind the mountains. It is also the best place to see the sun go down behind the mountain ranges. Tiffin Dara View Point offers an all-encompassing view of the complete Kanchenjungha range.
Ralli Valley – This beautiful valley is bountiful with flowers and a very scenic spot in Lolegaon.
Rishyap – This is also another tourist hideout with immense natural beauty. This hushed village with an abundance of trees lies only 4 kilometers uphill from Lava.
Canopy Walk – The Canopy Walk is situated just one kilometer from the Lolegaon bus stand. It lies in the middle of the foliage of cypress, birch, oak, and fir trees. The hanging foot-bridge is a major attraction of Lolegaon. The length of this picturesque bridge is 180 meters. Visitors can view the forest from a height. It keeps swinging so be careful.
Jhandi Dara Viewpoint – This is a renowned and remarkable viewpoint. You can see the entire Himalayan Range from this place. If you are fortunate to be blessed with a clear day, then the snow-clad peaks of Mt. Everest and Kanchenjunga will pose for you to soak in their beauty.
Rimbik – It is a little town in the Singalila National Park area. It is a hub for trekking lovers. The little town of Rimbik is placed atop a hill over River Rammam. It is close to the Nepal and Sikkim borders and it is the last distinctive village on the Bengal's side.
Experience Lava Lolegaon
Short treks or longer ones, Trekking is a very vital and adventurous activity that many people love. And these sides are very well known for their trekking routes.
Camping is another activity that is very popular among people. Camp tents on a green patch of land encircled by mountains are an experience you should undertake. The memory will remain with you forever.
Photography and Bird-Watching – Every angle of these places are worth taking a picture of. Go click happy in luxuriant Lava Lolegaon. Whether you are a trained photographer or you simply have a very expensive phone with a camera, let your imagination run wild. Take pictures for Facebook, Instagram, Pinterest, etc. because truly the beauty of these places should be captured. Along with taking pictures of nature, also take pictures of the winged creatures. This is a bird lover's paradise. Lava, being close to the Neora Valley National Park, you can spot numerous exotic birds like sunbirds, Cuckoos, partridges, Minivets to name a few. And if you are a bird watcher cum photographer, then spending hours here will not be enough for you. Changey La Waterfall is another fantastic place for catching a glimpse of Niltava, Indian Robin, Verditer Flycatcher, grey Treepie, and Capped Water Redstart among others.
Sunrise and Sunset – Viewing the sunrise and sunset from the mountains look absolutely extraordinary. Watching the sun slowly higher its head across the horizon looks breathtaking. Similarly, viewing the setting of the sun by bathing the sky and the topography with golden hue is incredible to watch. You just need to savour these moments.
Pedong – Pedong is not only a beautiful place but also very famous for adventure sports like archery, rock-climbing, mountain biking, mountain climbing, etc.
Food- How could one experience a place without its food? Though there no fancy eateries in Lava Lolegaon, but the roadside food stalls will make you salivate with their aroma and flavour. Momos, steaming bowls of thukpas, noodles, etc. will not only fill your stomach but also your soul. The foodies, food bloggers, and vloggers will really have a great time tasting the local cuisines.
Lava Lolegaon Hotels & Homestays
Though there are not innumerable options available, still there are nice, decent, and luxurious places to stay in both Lava and Lolegaon. You can opt for homestays for tasting the rural way of life in these places. The homestays are mostly amid nature. You can also stay in hotels in the heart of the village and view the wonderful surroundings from your rooms. No matter where you stay, the beauty remains the same.
How to visit Lava Lolegaon
By Roadways – Lava can be reached by road via Garubathan from Siliguri or via Kalimpong. Lolegain is hardly 24 kilometers from Lava. Lolegaon can be reached from Siliguri through Kalimpong.
By Airways – You have to take the flight to Bagdogra Airport in Siliguri as that is the closest airport. It will be a 4 hours drive to reach Lolegaon. Lava also takes around 3-4 hours to reach from the airport.
By Railways – The nearest rail station is NJP or New Jalpaiguri for both Lava and Lolegaon. There are two routes to reach Lava, one via Dooars along Damdim road that takes approximately 97 kilometers and just 3 hours from NJP. The other route is via Kalimpong and Algara and it takes over 4 hours to reach Lava. Lolegaon is 99 kilometers from NJP station. The distance and time to reach Lava and Lolegaon are more or less the same.
Lava Lolegaon Tour Plans
1. Lava Lolegaon Rishop Kolakham 4N5D
Day 1 – Arrival at Bagdogra or NJP Railway Station
Your tour will start when you reach Bagdogra airport or NJP Railway Station, where you will meet our representative and will be taken to your hotel in Lava. After reaching Lava, check in at the hotel and spend the rest of the day leisurely. In the evening, go out to explore the nearby places. Return to the hotel for an overnight stay.
Day 2 – Proceed to Lolegaon (50 Km in approximately 2 hours 11 minutes)
After having breakfast, check out from the hotel and proceed to Lolegaon. On reaching your destination, check in at the hotel, and after relaxing for a while, step out to explore the popular places of Lolegaon. Visit Heritage forest and later take a walk on the hanging bridge. A visit to Gumdara village, peaks of Pandim, Kabru, Talung, Narsingh, and Shambho will also be paid. Spend your evenings going to the local village & markets. Return to the hotel for dinner and an overnight stay.
Day 3 – Lolegaon to Rishop (51 Km in about 2 hours 20 minutes)
After breakfast, you have to check out from the hotel and travel to Rishop. As you reach Rishop, check in at the hotel. The Lava Lolegaon Rishop Kolakham trip invites you to Neora Valley National Park, where you will get to witness endemic orchids, Red pandas in their natural habitat with a backdrop of Kanchenjunga peak. After the jungle safari, make a stop to take lunch at any local restaurant. In the evening, roam around the nearby places and local markets. Have dinner and an overnight stay at the hotel.
Day 4 – Rishop to Kolakham
After breakfast, proceed to Kolakham. As you reach Kolakham, check in at the hotel and relax for a while. You will visit the Changey fall, situated at a distance of 1.5 kilometers from Kolakham. After the visit, you will have lunch on your way and head back to Kolakham. In the evening, you can go to Mulkharka Lake and spend some quality time. Reach back to the hotel for an overnight stay.
Day 5 – Departure
Check out after breakfast from the hotel and get dropped off at Bagdogra airport or NJP railway station for your onward journey back home as your Lava Lolegaon Rishop Kolakham trip comes to an end.
2. Lava Lolegaon 3N4D
Day 1- After reaching NJP or Bagdogra, you will meet our representative who will transfer to your hotel in Lava. The 100 kilometers journey will take around 3 hours. On arrival at the hotel, check in and freshen up. The day is at leisure. You can spend your evening hanging out in the local markets and area. Overnight stay in a hotel.
Day 2- Have early breakfast and then have sightseeing. You will visit Nature Interpretation Center, Lava Monastery, Jhandi Dara Viewpoint, etc. Return to hotel. Overnight stay in the hotel.
Day 3- Proceed to Lolegaon after a hearty breakfast. Upon reaching your hotel, check in and freshen up. The day is at leisure. You can spend the evening wandering around local places or you can stay back at the hotel and take a rest. Overnight stay at hotel.
Day 4- After waking up early in the morning, visit Canopy Walk, Lolegaon View Point, and other tourist spots. Return to hotel for lunch. Post lunch you will be transferred to NJP or Bagdogra for your return journey.
After visiting such beautiful places it's really hard to say goodbye We are sure the traveler in you will be happy and satisfied after this fulfilling trip of exploring and experiencing the two gems of North Bengal: Lovely Lava and Lustrous Lolegaon. We also know one more secret; that you have already started planning your next trip while traveling back.
Check out our Lava Lolegaon Tour