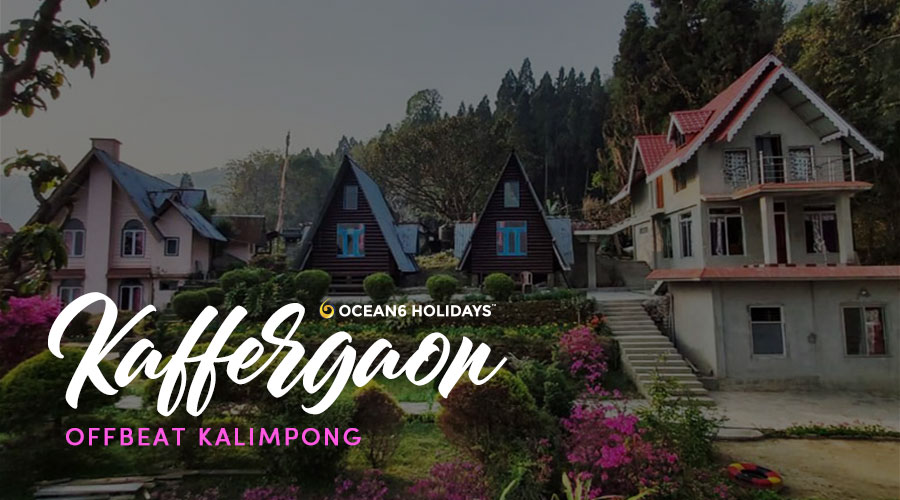 Kaffergaon is a very new off-track destination near Loleygaon. A downward treacherous serpentine road will bring you to scenic Kaffergaon. Kaffergaon is encircled with lofty snow-crowned mountains, dense green forests, and numerous rare flora and fauna. This is a worthy place to relax your mind and soul. A must do thing in Kaffergaon is to observe the astounding beauty of the sunrise from the Eastern skyline of Bhutan. Also, soak up the views when the golden rays of sun fall on Mount Kanchenjunga and make it look spectacular. The sunset is similarly beautiful to watch. You can see Mount Kanchenjunga and its neighbouring peaks without any obstruction. Kaffergaon wraps you with a blanket of calm and privacy.
Kaffergaon Sightseeing
Kaffergaon is a scenic location. Kaffergaon is mostly occupied by the Lepchas. Fill your lungs with fresh, purified air in Kaffergaon. The other attractive destinations nearby include Lava and Loleygaon, Kolakham, Rishyap, etc.
Charkhole
Charkhole is a very good honeymoon spot. During autumn and spring, Charkhole offers majestic unhindered views of Mt.Kanchenjunga. The clear blue skies at this time of the month along with the conifer forests, beautiful flowers, and plants, paints a very pretty picture of Charkhole. Charkhole will impress the nature aficionado and also the others immensely.
Loleygaon
Loleygaon is a superlatively scenic community which is encircled by forests. Loleygaon is an exemplary location to spend your weekend. There is a picturesque canopy walk amid the verdant forests of Loleygaon. While you leisurely walk on the swinging wooden bridge, you will get to hear the melodious tunes of the birds. Mount Kanchenjunga looks stunning from Loleygaon when bathed in the first rays of the sun. There is also a manicured garden which is named the Eco-Park which is sort of the bazaar area selling tea/coffee etc.
Lava
The picturesque landscape of Lava has a quaint Buddhist Monastery known as the Kagyu Thekchen Ling Monastery. This monastery is widely referred to as the Lava Monastery. The scenic beauty of Lava is enhanced by the dense forests all around. Lava is a very famous tourist location. This small hamlet is full of flora and fauna.
Kolakham
Kolakham is a minuscule settlement under the district of Kalimpong. Kolakham is placed on the hems of Neora Valley National Park. A luxuriant coniferous forest encompasses this off-beat retreat of Kolakham. Kolakham offers majestic vistas of the Alps. This off-beat place is appropriate for bird watchers, nature enthusiasts, couples, family vacay or for those who want to explore new places.
Pabong
The rural countryside of Pabong is a scenic hamlet in the eco-tourism sector. Pabong is an attractive settlement perched atop a mountain slope, hardly 34kms from Kalimpong Town. Pabong is an attractive little village adorned with grain-fields, dense forests and numerous trees. Charkhole is hardly 4kms from Pabong. The other attractive destinations nearby include Lava and Loleygaon, Kolakham, Rishyap, etc. Pabong offers majestic vistas of Mt.Kanchenjunga.
Rishyap
Rishyap is a secluded rustic settlement at a height of 8,500 feet. This unconventional virgin spot is inhabited by the Lepchas. Rishyap is also a very important bit of the Neora Valley. Rishyap is surrounded by birch, pine, rhododendrons, fir, and orchids. The ever-stunning Mt.Kanchenjunga stands with its full glory in this scenic location of Rishyap.
Kalimpong
Kalimpong is a charming place known for its natural beauty and lots of shopping bazaars. Beautiful Monasteries, Delo Hill, Dr.Graham's House, Orchid Garden, Morgan House, and a vast Golf Course are some of the heritage and stunning sightseeings of Kalimpong. These offbeat destinations are beautiful weekend retreats. Each place has its own idiosyncratic flavour.
Kaffergaon Activities
This sparsely populated mountain-walled hamlet is a lovely place for a quick getaway. There is a blanket of peace and tranquility that prevails over Kaffergaon. This newfound attractive destination displays a mesmerising a horizon with Kanchenjunga View. The Kanchenjunga View at the time of sunrise and sunset paints the skyline with beautiful hues. The Alps dazzles and sparkles in the sunlight. You will not be able to take your eyes off this natural wonder. Soak up this amazing atmosphere in the midst of peace and tranquility. The hard-core adventure aficionados will find this location very suitable for jungle trekking. The verdant forests are just appropriate for jungle trekking. The jungle trekking will most definitely provide you with a very exciting experience. The homestays can arrange for a warm Bonfire. Bonfire is a favourite for all the tourists. Tourists can enjoy a musical evening grooving to the locals' songs by the localites over there around the Bonfire. Everybody can join in and have a gala time cuddled up around the Bonfire, singing or even dancing. The otherwise peace and tranquil hamlet of Kaffergaon will come alive with the soulful and peppy local songs.
Kaffergaon Homestay
Kaffergaon Homestay supplies the esteemed guests with satisfactory accommodation. The homely meals of the Kaffergaon Homestay are tasty, fresh and hygienic. The Kaffergaon Homestay also provides spic and span rooms with toilets. The rooms of the Kaffergaon Homestay are comfortable and decked with wooden panels. This is a rustic village with homely accommodations, expecting 5-star amenities will be foolish. But the warm hospitality of the locals will more than compensate for the luxury facilities.
How to reach Kaffergaon
Kaffergaon is about 55kms from Kalimpong. It's advisable to reach Kaffergaon from Kalimpong. There are many trains which ply till NJP Railway Station. From there, it will take around 3 hrs to reach Kalimpong. Kaffergaon is easily reachable from Kalimpong. Kaffergaon Homestay also arranges for pick and drop which will be very convenient for you. Otherwise, hire a vehicle from Kalimpong.
Best time to visit Kaffergaon
Barring the monsoon time, Kaffergaon can be visited all the other times. It's not advisable to visit Kaffergaon during the rainy seasons as torrential rain doesn't make it feasible to travel to this place. Also, heavy downpour causes landslides closing down the roads. But the summer and winters months will not play any spoil-sport during your trip and you can enjoy in your cozy homestay.