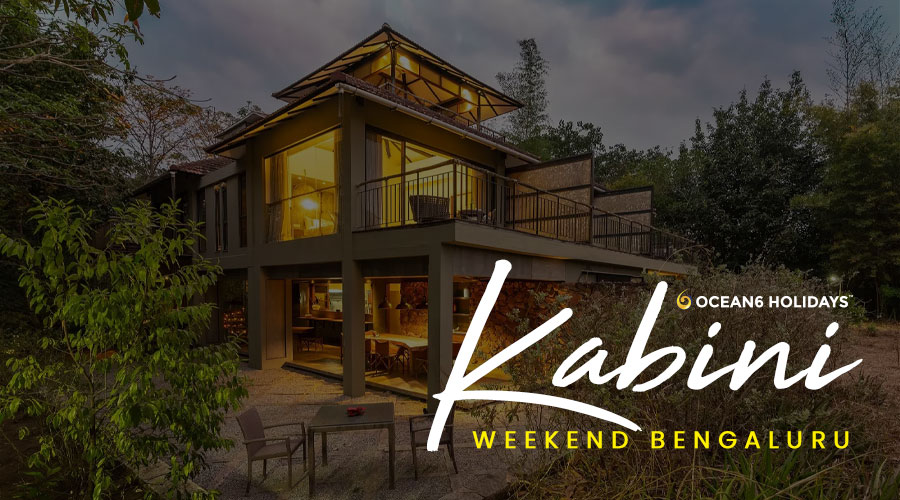 Karnataka, the cosmopolitan state of India is also a place of adventure and thrill. It might not be known to many but Karnataka is one of the best places to catch wildlife. Kabini is an opulent safari lodge that provides a front-row seat to one of nature's most dramatic phenomenon-the untamed wildlife in action. This safari lodge is situated on the fringes of Nagarhole wildlife sanctuary. This place is truly spotted with the beauty that can be experienced here. The luxury cottage is canvassed among nature. As you look around your wonder will quickly turn into disbelief when the jungle all around will gesture you to come inside.
The safari lodge is very near to Bangalore. It is completely surreal to have a jungle gateway so near. It is so amazing that the people here are blessed with such daily sightings of feral beings. The heavy wildlife inhabitants merge on the green meadows along its titular reservoir and on the banks of River Kaveri during summers. No matter how many times you have watched wildlife on Discovery Channel and Nat geo, seeing it with your own eyes is an experience that cannot be stated in words. This portion of the jungle is a part of the Nilgiri Biosphere Reserve that spreads over an area of 5522 square kilometers covering the three southern states of Karnataka, Tamil Nadu, and Kerala.
Did you know that Kabini is the abode of the biggest gathering of Asiatic elephants all over the world? Kabini wildlife sanctuary in southern India allures wildlife aficionados from India and all over the world. Elephants have highly developed brains that are the largest among land animals, three times as big as the human brain. Though incapable of jumping, elephants can run at a speed of 40 kilometers per hour. Elephants from the same herd will often use touch to greet each other, rather wrapping their trunks around each other or giving the other a friendly tap on the body. Karnataka takes pride in having the largest population of tigers in India. This jungle is packed with other beings that would surpass every stretch of your imagination. The wild spectacle show is also run by bison, leopards, langurs, sloth bears, four-horned antelopes, wild dogs, barking deers, chital, sambar, gaur, spotted deers among numerous others. In fact, making this country and continent magical is the glimpse it offers into the untamed world.
This opulent safari lodge also believes in and practices sustainability. The lives of local communities and the animals are intertwined from the beginning and that is why it is still the largest repository of these big and charismatic animals. Along with being a luxury property, it is also an eco-friendly place. The property encourages all to keep the jungle free of pollution. They work hand-in-hand with the locals to keep the jungle and its surrounding areas sustainable. They plant the seeds of endemic flora every year to maintain pivotal biodiversity. The jungle resort makes use of renewable resources wherever possible. The jungle lodge is not only situated in the midst of wilderness but it is truly a special lodge. Their kitchen waste is recycled in a biogas plant and the organically produces methane is used for cooking. Their honest efforts to make this place and the environment healthy and clean are to be grateful for.
The lodge has various amenities like a cozy and comfortable common lounge that provides a panoramic view of the surroundings. There is also a spectacular viewing deck from where birds can be seen. The quietness of the jungle with the undisturbed atmosphere gives you the chance to view many birds at Kabini. The lodge has an extraordinary dining area where you will not only relish your meals but also enjoy discussions and excited chats about what you saw during the day and night. Share stories, weave memories as you enjoy the food. The opulent safari resort also boasts of an infinity swimming pool where you can indulge in water therapy. The incredible wilderness calls for a bar-be-que or a bonfire. Both can be arranged on prior request. Wi-Fi is also available but if you have come to a place like this, enjoy the raw, natural beauty rather than scrolling up and down your phone.
The lodge provides some exhilarating activities that you should not miss out on. Jungle Safari, boat safari, cycling in Kabini, coracle ride in Kabini, nature walk, birding, kayaking are some interesting activities that you can take part in. This retreat also provides glamping that camping in a glamorous way. There are also four rooms, overlooking the views of the horizon. So if you are looking for some adventure and you want to go on a safari and get up and close with wild animals, head to Karnataka. The wealth of wildlife in Karnataka will spellbind you.