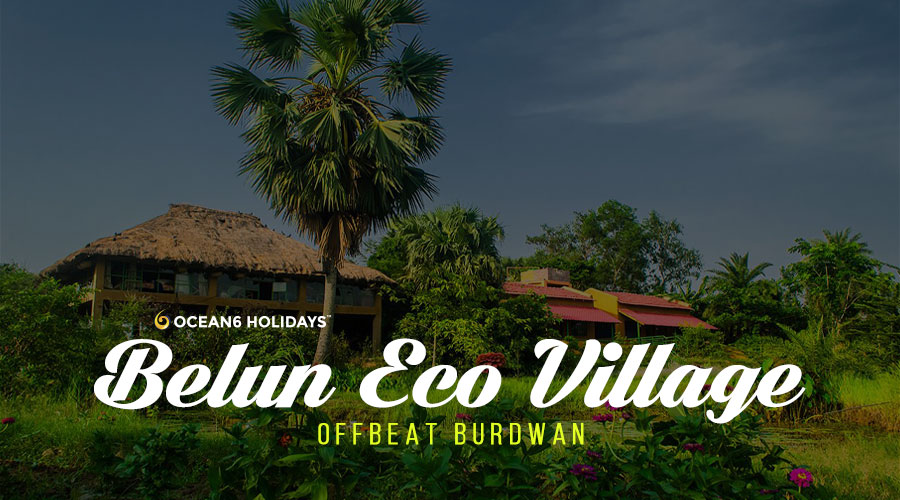 Belun Eco Village, where nature has come alive. When your mundane life wants to break free from the daily hustle and bustle of city life, what does your heart desires? It surely seeks out a quiet, calm, and peaceful place amongst nature. Natural surroundings play a vital role in our lives. Whenever we want to get away, we want to go nearer to nature. Nature is a natural and organic healer. You can listen to your heart when you get closer to nature. Belun Eco Resort is a place where you can unplug and connect with nature. It is situated in Katwa, Bardhaman. You can relish the sonorous words of nature and its beautiful creations. Needless to say that the Belun Eco Village is tucked away far off from the mechanical city life.
You might have heard about Belun Eco Village or you might not. But if you are tired and looking for a soulful place, Belun Eco Resort is where you should head to on your weekend or weekday, it's up to you. Spend your time relaxing and rejuvenating in this peaceful and picture-perfect resort. This distinctive destination is fitting for nature lovers, honeymooners, bird watchers, and of course for family and friends. Get lazy and just stop for a while. Let the chirping of the birds wake you up in the morning. Take a morning stroll to spot general local birds and also rare magnificent migratory birds. On the way, you might also meet jackals, civets, foxes, and fishing cats. A charming water body at the resort endowed with lotus flowers and fishes enhances the beauty of Belun Eco Resort.
Belun Eco Village Resort presently has four triple bed cottages that are non-air-conditioned. The cottages have spacious modern bathrooms that are half-covered. Do not be surprised if you see a real tree inside your bathroom. The cottages look over graceful lush green fields. One of the most unique features of this Belun Eco Resort is an open Jacuzzi in the middle of the forest. Taking a shower in the Jacuzzi will surely be an exotic experience that you will always remember. You will be provided with a bathing towel and it also has a hand shower. One more special characteristic of this Belun Eco Village is an open European-styled toilet. The Belun Eco Resort can serve you delicious country chicken, mutton, locally produced fresh vegetables, fish, eggs, etc.
Things to do
Firstly breathe in the pure and natural air and fill up your lungs. Saunter alongside the Shibai River. Watch the beautiful winged-feathered creatures flying and chirruping away in their melodious tone. In fact, staying in a traditional mud house itself is a soothing experience in the tranquil environ. Feast your eyes on the pretty blooming flowers. Pluck vegetables from the farm. Go rafting in the nearby lake. Sit on the bank of the Shibai River and listen to the soft gurgling ripples.
Places to see
Choto Pukur – Choto Pukur is a wetland which is very near to Beloon Eco Village Resort. This is where the migratory avifauna flocks every year in thousands. Watch out for Wooly-necked stork, White-throated Kingfisher, Ruddy Shelduck, and Bramhiny Duck.
Attahas – This is a pilgrimage place for the Hindus that is popular for its "Satipith". This place also has a huge population of Open – Billed Storks and Fruit Bats.
Kalyanpur Ghat – Here you will find rare species of Gangetic dolphins frolicking in the water.
Nayachar – It is an island on the Holy River Ganges that lies around 20 kilometers from Belun Eco Village. Many seasonal birds and wildlife have made this place their abode. Musharu is a village over there where poisonous cobras inhabit. Thus it is also known as Snake Village.
Kalna – This is a very famous place for Hindu worshippers as it has 108 temples of Lord Shiva.
How to reach
By Car – Belun Eco Village Resort is just 3 hours drive from Kolkata. You are suggested to take Durgapur Expressway and drive along Bardhaman to reach your destination that is 175 kilometers away from Kolkata. (Or you can also take the Delhi highway)
By Railway – Alight at Katwa Railway Station and from there take a Toto or hire a Taxi. It is about a 14 kilometers journey that will take around 45-50 minutes. You can also get down at Burdwan Railway Station and avail a Taxi that will take about 1 hour and 30 minutes for a stretch of 67 kilometers.
By Air – From Netaji Subhas Chandra Bose Airport or Dum Dum Airport, you have to embark on a road journey. Please refer to the By Car option for your ongoing journey.
Review – It's nature's paradise. This beautiful place and the resort have won my heart.