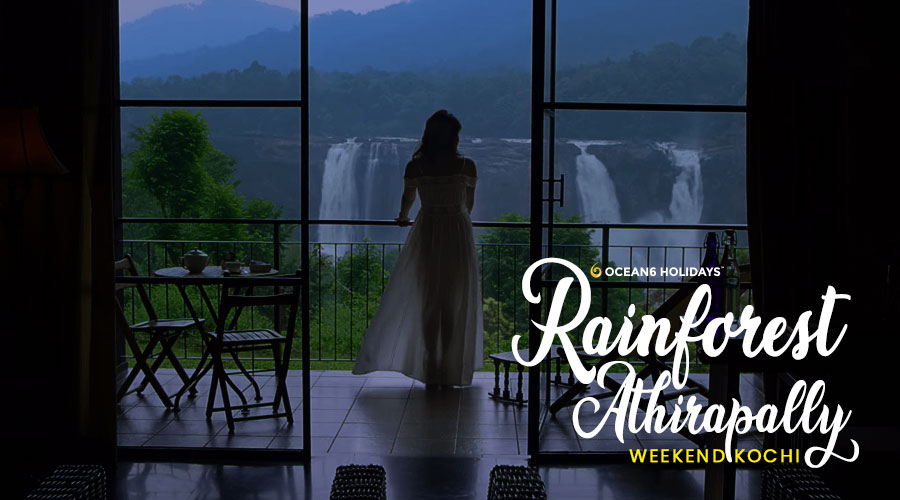 Kerala is a beautiful state that is ensconced with nature's bountiful offerings. Every nook and corner of Kerala is a picture-perfect postcard. The visual and sensual power of Kerala can overshadow in any other place in the world. Whether it's the calm backwaters, bridges on rivers flanked with coconut trees on either side, dreamy villages, awe-inspiring verdant green mountains, sunny beaches, etc. Kerala is packed with beauty. Rainforest Athirapally is an enchanting place decked with palm trees offers you the ultimate bliss. The pristine lakes in Kerala are so magnificent that they will automatically make you stop everything and enjoy its serene blue waters. And this is just the beginning. You can get into a houseboat and glide down the backwaters, observe the local fishermen work their famous Chinese Nets, take a walk down the riverbank and capture every astounding moment that unfolds in front of you. There is no dearth of greenery in Kerala.
If you are planning for a southern trip, no doubt Kerala should top the list. This tropical destination is the ideal vacation for you. Located in the Malabar Coast of India, Kerala provides prismatic views beyond your imagination. Kerala is not a piece of paradise but it is paradise itself. Among numerous extraordinary places, there is a place called Athirapally. This place is situated in the Thrissur district in Kerala. This amazing place has bountiful green forests, winding rivers, and cascading waterfalls. This place is not only apt for nature-lovers but also for those who seek solace and tranquility and also those who can appreciate beauty. This place will make you immerse in limitless beauty and everywhere you look its beauty will amaze you and you will remain gaping at it with wonder.
Rainforest Athirapally A Boutique Resort
A spectacular resort is tucked away in the lavish green surroundings of the picturesque nature. This dreamy resort is your gateway to connect with nature. It is really difficult to describe the beauty of Athirappally and this resort. There are not enough words in the dictionary that can exactly describe its unbelievable beauty. Once you enter the resort or even come closer to the area, you will feel you stepped into a wonderland that you never knew existed. The gratifying nature will infuse you with the essence of its incomparable beauty. The nature will allure you to look deep into it to understand its soul. The earth will nudge you to feel your bare feet and the winds will long to play with your hair. This resort is placed in 7 acres of unadulterated rainforest that promises a personal yet luxurious experience for its esteemed and exclusive guests. It won't be hard for you to see that this majestic resort is awash with extreme beauty. This resort ushers you to get drown in its melody of solitude that soothes you and takes away all your worldly worries and lulling to fall asleep peacefully. No matter how many clicks you take, still it can't be described in pictures.
Rooms, Food, Activities and Sightseeing
Every step you take, every move you make, gets transformed into a memory that is to be cherished for a lifetime in Rainforest Athirapally. All the rooms in this property allow you to view the luxuriant nature. To hear the sonorous sounds of the waterfalls and see the verdant greenery every time you look out the balcony is an opportunity that is very rare. The misty fog that is created by the gushing down of the water from the waterfalls is totally like a utopia. The breakfast spread at this mind-blowing resort with yummy pancakes and homemade jams are a true delight. You can also have fresh fruits and say no to greasy snacks. Other meals are also very sumptuous. The resort uses the ancient tribal method of cooking and will take you on the super gastronomical ride. You need to pre-book if you want tribal fares/feast. You can explore the surrounding by indulging in a waterfall trek, forest walk, cycling, bird-watching, and some other exciting activities and sightseeings. Every view that you see, soak it up because it's priceless.
The breakfast at Rainforest Athirapally provides continental and South-Indian menus. While for lunch, you will be served authentic Kerala Sadhya that includes rice, lentils, curries, chutneys, and accompaniments laid out on a banana leaf. Continental and European meals are available for dinner. One of the 10 rooms in the resort has an in-room Jacuzzi from where you can have a lovely view of waterfalls and hills. Every room has something unique and special to offer. The infinity swimming pool also has astounding views of the surroundings. This resort is ideal for a wellness retreat or a romantic honeymoon. Weddings are also held in this resort. If you want to have an intimate wedding with around 100 invitees, then this is your perfect choice. The sanctity of marriage is truly and blissfully experienced in Athirapally's exotic resort. What better place than to take your 'pheras' or vows in this beautiful location covered in thundering waterfalls and flourishing greens?
The resort is a rare pearl that will make you stay unforgettable and memorable in each and every way. Kerala, also known as 'God's Own Country' is brimming with beautiful places. That is why it is such a prominent state in India. There are many destinations to visit in Kerala but you should not miss visiting Athirappally.