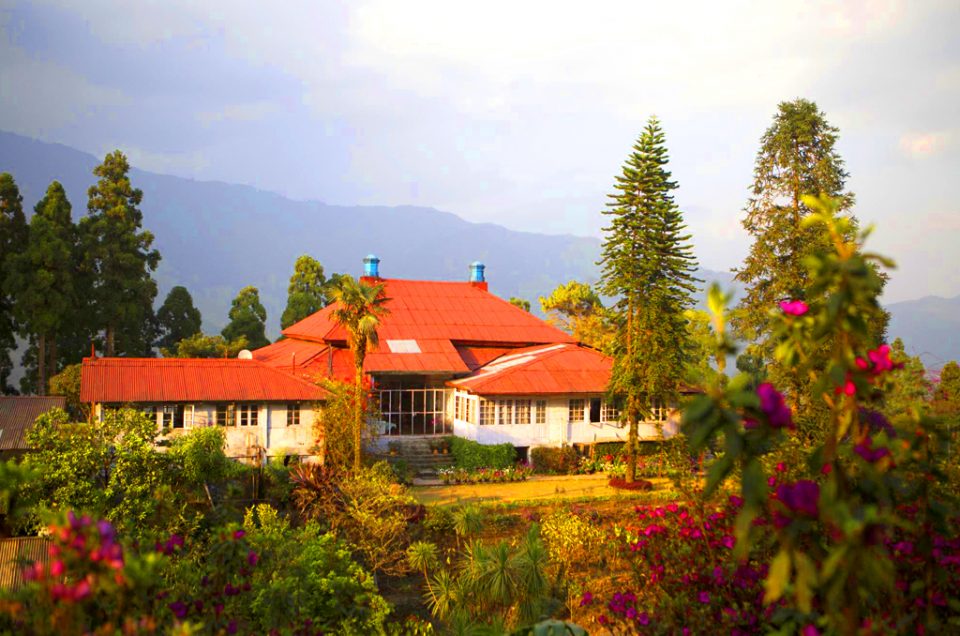 The Organic Tea Trove
At an age when 'Organic' is grabbing the world's attention, Goomtee Tea Estate near Kurseong stands high as one of the premium Organic Tea Gardens of India. Spanning across 600-acres of land covering forests, hilly slopes, brooks, and waterfalls, and tea gardens, this place offers a perfect retreat for weary souls and tea connoisseurs alike.
The colonial-era heritage bungalow which has been restored into a plush resort was originally built by Mr. Henry Montogomery Lennox in 1899. In 1956, the property was jointly taken over by Mr. Mahabir Prasad and the Kejriwal family. Today, the bungalow opens its doors to all discerning travellers but the mode of booking is not typically commercial. The present owners prefer inviting only those who sincerely wish to spend a vacation amidst tea gardens and promise to present them a holiday with a difference.
The Bespoke Tea Experience, Facilities, and Activities
The heritage bungalow inside Goomtee Resort, located 4150 ft above the sea level, offers a magnificent vista of the mountains, valleys and tea gardens of Darjeeling. There are 4 tastefully done up rooms in the bungalow, all of which are steeped in elegance and peace.
Outside the bungalow, the lawn is full of greenery and bright flowers. Here, you can take leisurely walks at any time of the day. The clean air, the clear blue sky, the cool breeze, and the aroma of the finest Darjeeling teas will help you to totally unwind. The food experience at Goomtee also deserves a special mention. You are served with a delectable spread of fresh vegetable food (egg items included) accompanied by cups of world-class teas.
Tea Specialty of Goomtee
Goomtee tea gardens produce the finest varieties of orthodox Darjeeling tea. As a guest, you are taken on guided trips to the tea gardens. There you get to experience the fascinating tea-manufacturing process. A tea tasting session is also arranged which helps you gain insight into various types of tea.
The morning tea at Goomtee Bungalow is brewed with tea leaves plucked a day before. You can request a special drink and be served happily.
Other activities:
One can enjoy an array of activities at Goomtee Tea Estate. The most exciting ones are:
Hiking through the tea gardens on the hilly slopes and interacting with the tea pluckers
Trekking in Sandakpu and North Bengal
Toy train ride to Darjeeling
Sightseeing: Sunrise at Tiger Hill, Zoological Garden, and Himalayan Mountaineering Institute& Museum in Darjeeling
Exploring markets of Kurseong
Other recreational facilities within the premises include table tennis and a well-stocked library.
How to Reach?
Goomtee is located 48kms from Darjeeling and 40kms from Bagdogra Airport, Siliguri. Flights to Bagdogra are available from all major airports of the country. If you are coming from outside India, you have to take a connecting flight from Delhi, Mumbai, or Kolkata.
Best Time to Visit
March-June and again from September to January are the best times to visit Goomtee Tea Garden Retreat.